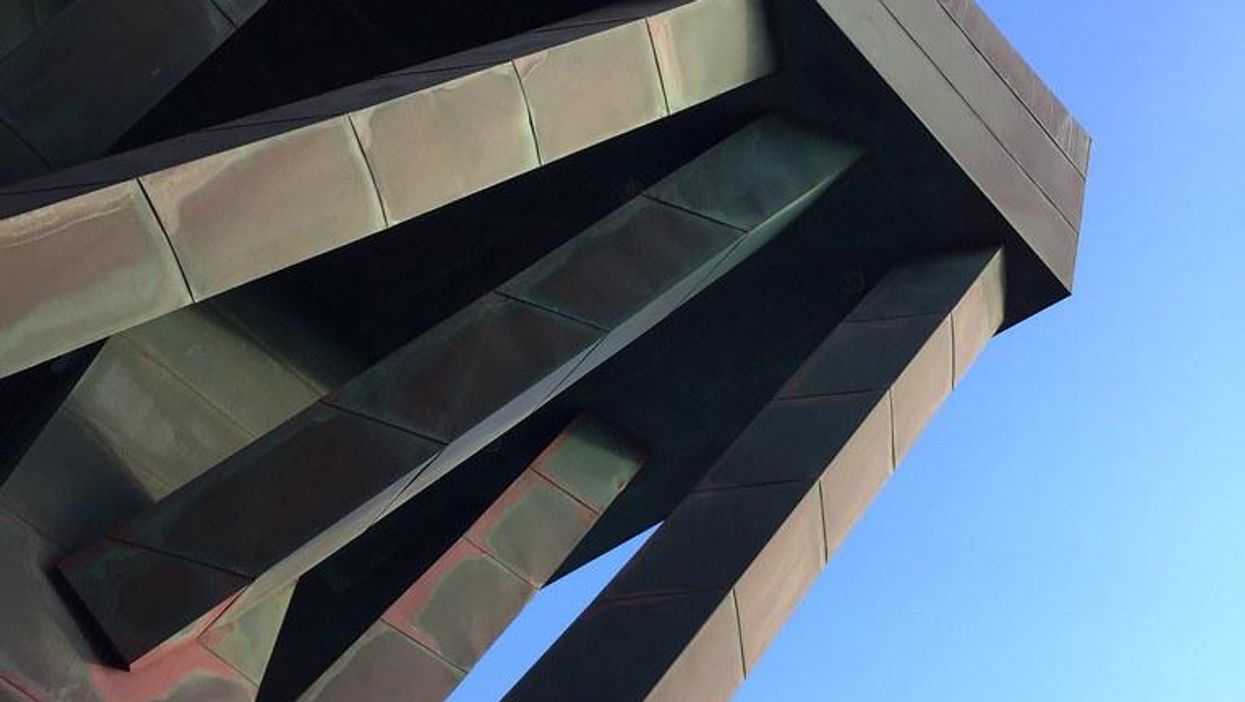 A security guard who worked at Google's Venice campus has sued the company, saying it did not adequately respond to his complaints that he was sexually harassed and physically assaulted by a supervisor because of his race and sexual orientation.

---
David Brown, who is Black and gay, alleged his supervisor called him racial and gay epithets, and physically abused him by "grabbing him on the buttocks, kicking him in the groin, throwing him through a window head first and brutally grabbing his nipples."
Brown is employed by both Google and security company Allied Universal, according to the lawsuit filed Sept. 29 in Los Angeles County Superior Court. He is seeking unspecified monetary damages for the alleged abuse which began in 2012, continued at Google in 2014 and ended when he went on leave last year.
The lawsuit comes in the wake of a year of racial reckoning, during which many major tech companies, including Google, announced efforts to make more inclusive workplaces for Black workers. Google employees have drawn attention to the issue of workplace sexual harassment at the tech giant .About 20,000 Google employees and contractors staged a walkout in November, 2018. In April, more than 2,000 workers signed an open letter, saying the problems haven't been adequately addressed.
"Google, basically, they give lip service to wanting to deter discrimination and harassment, but here, when they had the opportunity to do the right thing, they struck out," V. James DeSimone, Brown's attorney, said in an interview.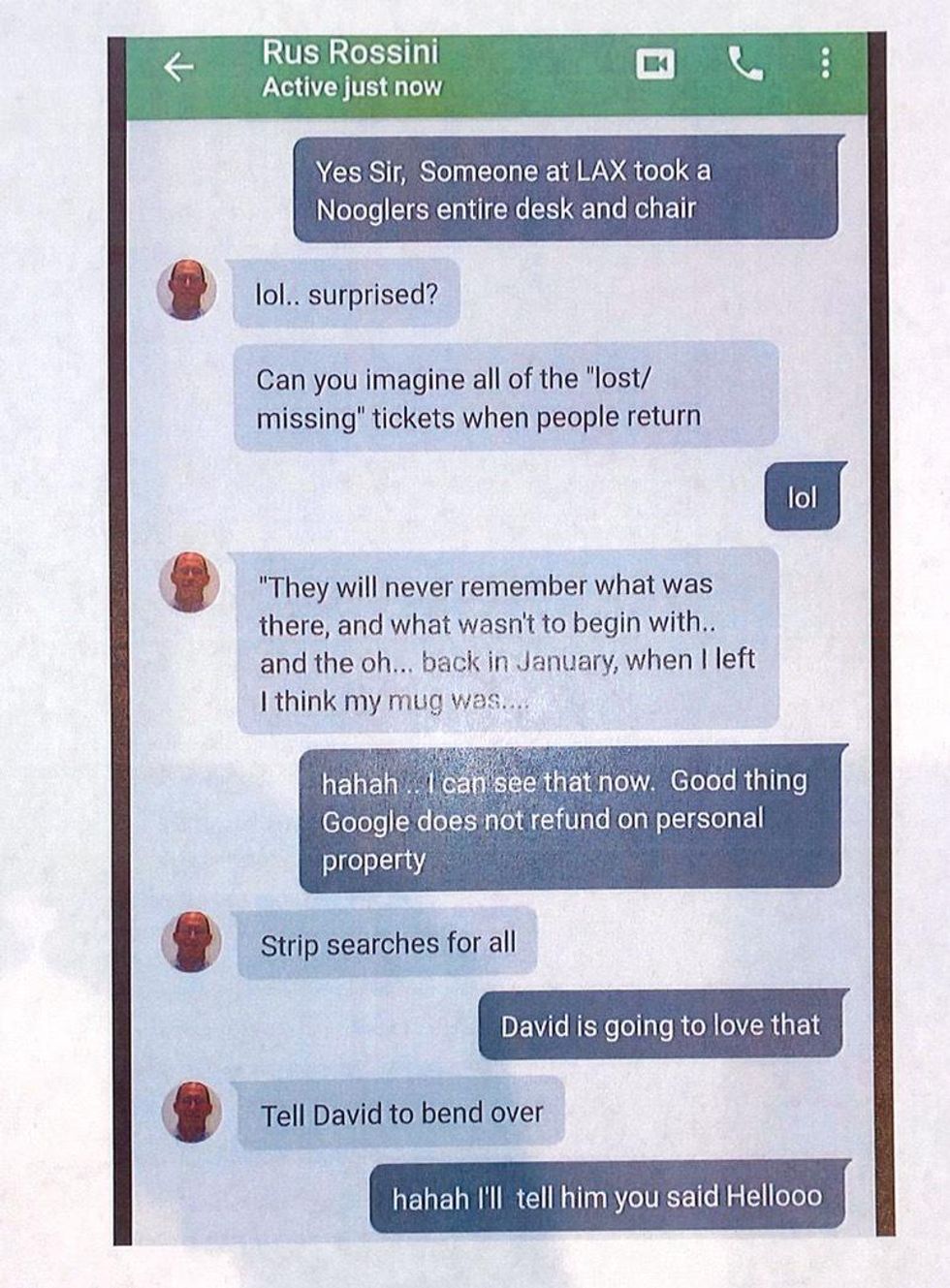 The lawsuit also points to an exchange of text messages between Brown's supervisor, Henry Linares, and Google's senior manager for global community operations, Rus Rossini, in which Rossini and Linares allegedly mocked Brown's sexual orientation.
"Strip searches for all," Rossini texted, according to the lawsuit. To which, Linares responded, "David is going to love that." Rossini wrote, "Tell David to bend over," and Linares replied, "hahah I'll tell him you said Hellooo."
The lawsuit alleged Rossini "participated in the discrimination and sexual harassment and took no corrective action."
Google did not respond to a request for comment.
An Allied spokeswoman sent a statement: "Allied Universal is dedicated to fostering a workplace that is free from discrimination. We are committed to treating all people fairly, protecting safety and privacy and upholding ethical business practices at all times. We take seriously all claims against the company but are unable to comment on pending litigation."

Brown's supervisor, Linares, was fired for reasons unrelated to this complaint, according to the lawsuit. A person named Henry L. who worked at Allied through July 2021 did not respond to a LinkedIn message requesting comment.

In an emotional interview, Brown said he lived in fear of being killed because of the threats Linares made. He didn't tell anyone, including his partner, about the abuse for years.
"It took courage that I didn't even think that I had to voice it to my partner, to voice it to my other coworkers who I told what was going on," Brown said. "It took a lot out of me, but I didn't want to be selfish. I said, 'what if someone else is going through what I'm going through and they're scared like I was for all those years to tell anyone'."
The alleged verbal and physical abuse began in 2012 when Brown and Linares worked at the Santa Monica Mall. Two weeks after Brown filed a complaint, he was moved to Google's Venice campus.
Brown was relieved and ready for a fresh start, but a year later Linares was transferred to Google.
"I thought it would be completely different, especially because I did what I had to do as far as reporting it. I just thought that I would be more protected," Brown said of his time at Google.
"The companies have an obligation to keep the workplace safe and to take all reasonable steps to prevent harassment from occurring and these companies are being called out on that publicly," DeSimone said. "In terms of this lawsuit, we hope to be part of this movement across the country that is holding the companies accountable for the harassment that unfortunately still is prevalent in many workplaces especially, it appears, tech companies."
On Monday, a jury ordered Tesla to pay nearly $137 million in damages to an employee who was exposed to racist abuse, discrimmination and harassment at the company's factory in Fremont.
Brown said he filed the lawsuit so that others don't feel like they have to be silenced.
"I want someone else who's going through something similar, or maybe the same thing, to know it's OK to tell," he said. "I wish I just had the courage and I blame myself so much that I didn't say anything sooner. I just want justice. I just want awareness. That's all I want."
A Feb. 1 hearing is scheduled in the case.