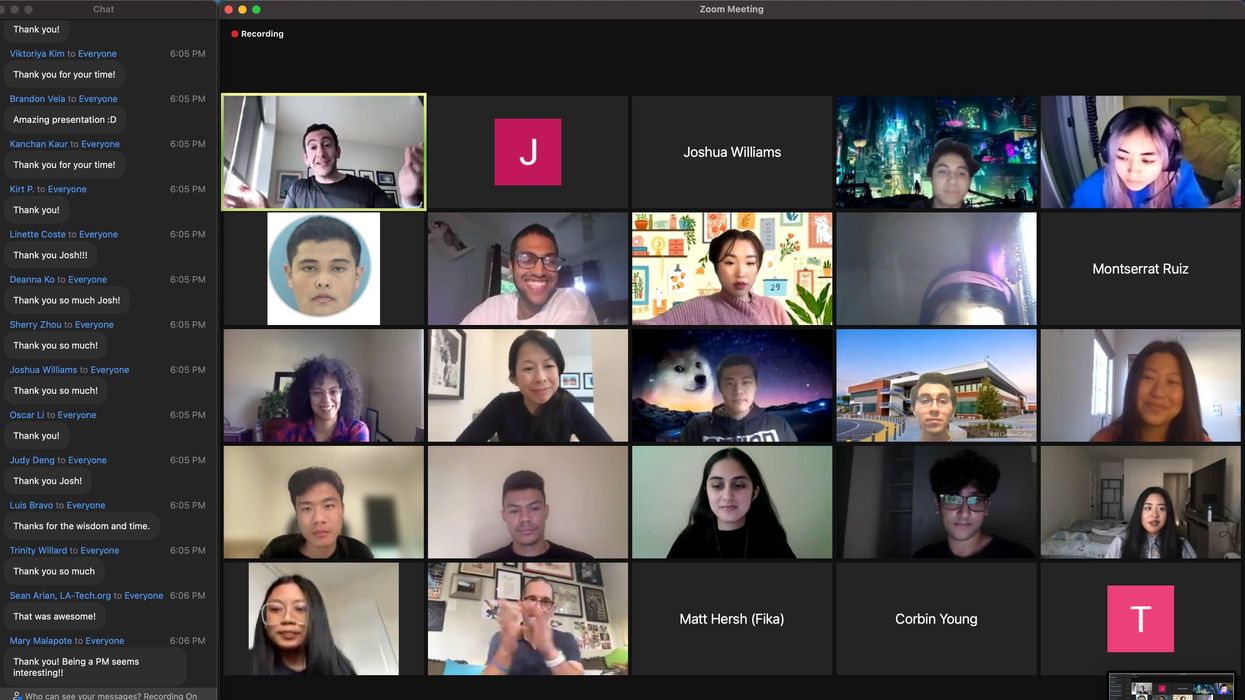 Last fall, Fika Ventures partner Eva Ho and LATech.org Executive Director Sean Arian helped lead entrepreneurship programs for preselected high school students in working class and immigrant communities in the San Fernando Valley.
What they quickly discovered was that the existing type of entrepreneurship programs and coding bootcamps lacked an exposure to all the non-computer, science-based career offerings in the tech industry.
---
Many students were uninterested in tech because they didn't know enough about it.
"I also grew up in the same community. I grew up low income. My parents were immigrants from Africa. There was nobody to help me decide what kind of career I would do," Ho said. "I don't think I would've landed in tech without mentors. I didn't know how to network or the opportunities."
The predominately white male tech industry has been under pressure to diversity its ranks, with companies like Snap Inc. and others issuing annual diversity reports. According to their latest diversity report, 84.6% of tech executives are white, and 84.3% are men.
So Ho and Arian regrouped and they came up with a concept: Why not broaden the program to include elements of the tech industry beyond computer science? They also decided to focus on students beyond high school.
Last fall, the duo created the Fika Accelerator, a sort of short apprenticeship with the aim of offering students a paid opportunity to develop skills, understand the tech industry and get a shot at an internship at some of the region's best known tech companies like Snap and Cornerstone OnDemand.
Primarily funded by Los Angeles County, the 120-hour course runs over a seven-week period, after which Fika will evaluate their job readiness and recommend students to selected companies for internship interviews.
The first two weeks of the program will focus on product design, the third and fourth weeks will focus on marketing, the next two weeks on sales, and the last week on career development. Students are required to develop a product, then a marketing plan, then sales plan and lastly a final project.
"I'm about to graduate so I'm trying to figure out other ways to go around the education system," said Trinity Willard, UCLA fourth year with a double-major in Public Affairs and African American Studies.
She developed an interest in product development after working on her Fika Accelerator capstone project.
"They go into so many different parts of the tech space that I learned product development's behind the scenes and brainstorming work is the stream within tech I'm most interested in," said Trinity. "It's the foundation for everything."
The pipeline for internships narrowed last year as most companies either reduced or shut down their internship programs during the pandemic,. Fika aims to open those opportunities back up for its students.
Cornerstone OnDemand, Blackline and Snap, Inc. are just a few of LATech.org's member companies that have taken interns from past programs, along with smaller companies like Q&A and Open Path.
Ho and Arian envision a long future for Fika Accelerator.
"If L.A. were a nation, it would be the 19th largest economy in the world. We could be doing this program for all ages ranging as young as a 6th grader all the way to graduate students," said Ho. "The potential to impact thousands of people is real. We have big dreams for this. This is just the start."