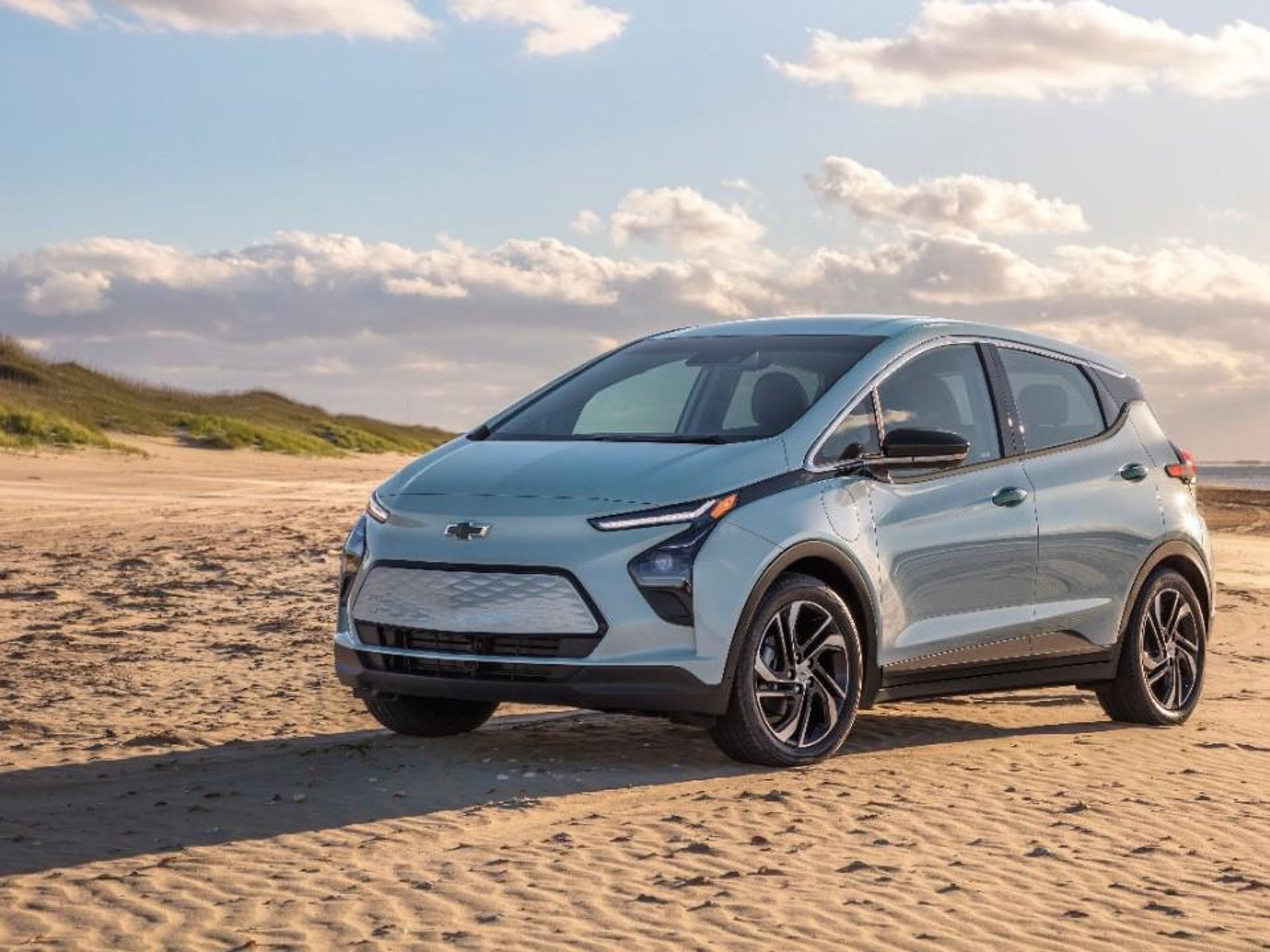 A series of battery fires in GM cars have dented America's largest automaker's plan to go electric. GM announced a recall last week for all 2017 through 2022 Chevrolet Bolt EV and Bolt EUV models citing concern over faulty batteries.
The-now $1.8 billion initiative could include the replacement of all five battery modules in more than 140,000 cars around the world. It expands a recall from last fall that included just 2017 through 2019 models and a software update.
---
Battery fires are nothing new to the EV industry, and electronic giant LG, among the largest manufacturers of batteries for electric vehicles. Regulators have recently expressed concern over the danger they pose to first responders.
Hyundai recently withdrew its Kona Electric from South Korea after battery fires. Tesla has been under investigation from the NHTSA over fires in its vehicles.
But the recall hovering over every Chevy Bolt is a potential gut-punch as GM transitions to an electric vehicle company by 2035 and the new car market is pushed increasingly to plug-in vehicles.
While GM is recalling every Bolt, the defect involves two rare flaws in the battery manufacturing process at plants in Michigan and South Korea. Five fires have been connected to the problem. One involved a legislator in Vermont, whose Bolt was involved in November's software update and had the fix performed. Another event occurred this summer was with a Bolt model in Arizona that was built with the new battery chemistry.
"I don't think it's a huge problem for EVs, I think it's a huge problem for GM," said Bill Soule, managing partner of TorqueEVs.com. "And that's going to be a problem going forward as [EVs] are being bought at an increasing number."
The recall comes just as GM was set to launch their Cadillac and GMC electric vehicles in California.
The Bolt, which went on sale in California at the end of 2016 as a relatively inexpensive long-range EV, and outsold by the Tesla Model S by only a few thousand cars in California in 2017. It received a new type of battery, with a new chemistry and increased range in 2020 and styling changes on the 2022 model that went on sale this summer.
GM spokesperson Daniel Flores said the original November recall was restricted to the first three years of the Bolt. Those that had battery cell defects detected by the software update received the new modules, which upped the estimated range from the original 238 miles to 259.
"We don't think every vehicle has defective cells," Flores said. "But right now, we don't have the tech that can look at the granulated cells. For the newer vehicles, when we have a repair, we'll start out replacing all the modules. But if we can develop software to determine where the cells are, we will probably be able to replace just the defective cells."
The software update on earlier Bolt cars was supposed to alert GM if a vehicle had a defective battery module. But it can't yet determine which modules are affected and prone to malfunction and fires.
Although widespread, the Bolt recall pales in comparison to the Takata airbag scandal that has involved tens of millions of vehicles from various companies across the world. And GM didn't wait for the National Highway Transportation Safety Administration to force it to recall cars.
"There are ways we can monitor what's happening in the field. That includes warranty data, if the customer goes into the dealership," said GM spokesperson Daniel Flores. "The service department files to the company to get paid and what the work was and the parts that were needed.
GM has faced issues with its vehicles catching fire in garages before. Earlier this summer the NHTSA warned that certain battery packs could smoke, ignite and potentially catch fire posing a threat to structures. Its solution has been to not charge the vehicle overnight and indoors, such as in an enclosed garage. It's also asking owners to change the vehicle settings to not let it charge over 90% capacity and not running it to fewer than 70 miles left on the charge. That may require an education that few owners will listen to.
"The clear benefit of an EV is that you never have to go to the gas station," Soule said. The dirty secret about vehicles is that they burn. Tesla photos get crazy hits on Reddit."
Over the last 10 years internal combustion vehicles have as much as 10 times as many complaints over fires as EVs, according to NHTSA.
"Many will see it as an automaker being proactive to address an issue with a new technology," Tyson Jominy, vice president of data and analytics for Agoura Hills-based J.D. Power, said. "Most EV intenders are already familiar with the many Tesla fires so a legacy automaker having similar troubles could lead to a few more Tesla sales."
Southern California is a place where many EV drivers live in multi-unit dwellings without EV chargers, and therefore rely on public charging. Soule doesn't think there's an issue EV charging companies need to worry about. But it could create another problem.
"This gives a landlord all the ammunition they need to say, 'no,' to adding a home charging station," he said.
All Bolt models are still based on GM and LG's older battery technology that is about to be superseded by its new Ultium electric platform. Also co-developed with LG, the GM Ultium platform will first be used next year on the Cadillac Lyriq SUV and GMC Hummer EV, and followed in 2024 by SUVs from Acura and Honda.
Flores says the Ultium battery pack is effectively "two generations" ahead of the Bolt's pack in terms of the manufacturing process. It will have more advanced software that can detect and diagnose problems in the battery pack more precisely than the Chevy's software update currently can.
And in a year or two when more new EV models go on sale, the Bolt's hiccups will be forgotten among electric car customers and the transition to plug-ins.
"That leaves only the non-EV intenders in today's market and how it might delay their transition to EVs," Jominy said. "Battery fires from many years ago, from one automaker and in a segment they aren't considering probably won't register too much."
"In short, not even Tesla has been slowed by fires and I don't expect this to slow down the EV transition much," he said.