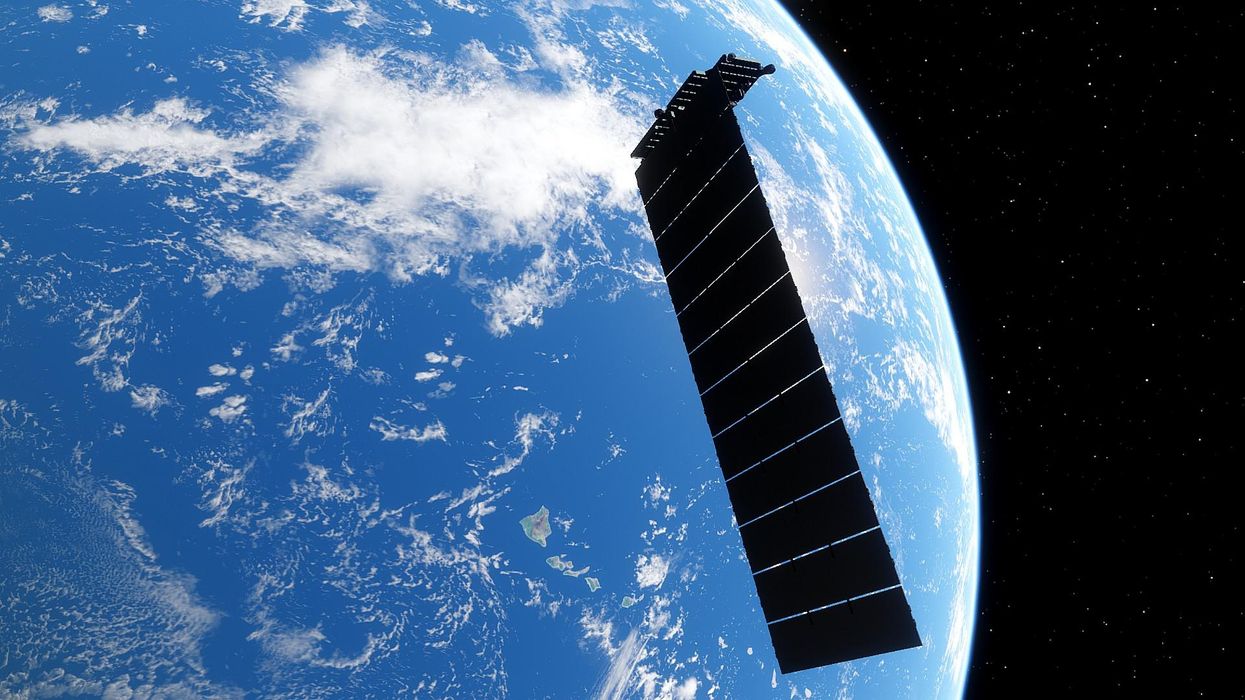 A small California satellite launch company is trying to halt SpaceX's ambitious Starlink internet project, arguing that the rocket company is launching the satellites without a clear understanding of their environmental impacts and without a plan to prevent more trash from cluttering Earth's orbit.
---
Earlier this week Viasat, a direct competitor with SpaceX, asked the Federal Communications Commission to pause a license modification that the FCC approved April 27. The license lets the Hawthorne-based company add more satellites to its 1,600-strong broadband constellation.

The Union of Concerned Scientists' satellite database project estimates more than 3,000 operational satellites are already in orbit. Space junk is a big concern and NASA estimates that there are 6,000 tons of space debris floating around in low earth orbit.
If the FCC does not respond by June 1, Viasat has threatened to take the issue to federal court in the District of Columbia.
The Carlsbad-based company, which made a similar request that was ignored under the Trump administration, is hoping for an empathetic response from the Biden administration.
"The Commission has violated the National Environmental Policy Act (NEPA) by failing even to assess the environmental impact of both deploying thousands of satellites into low-Earth orbit (LEO) and then having those satellites ultimately disintegrate into the atmosphere," Viasat said in the filing.
Viasat's Chief Officer of Global Government and Regulatory Affairs John Janka said in a statement that the new presidential administration's renewed focus on climate initiatives was part of what prompted the company to file its challenge to SpaceX.
Viasat is concerned because more satellites inevitably leads to more junk. Other scientists noted in a recent study that satellites are "rapidly increasing" the artificial brightening of the night sky, making it harder for astronomers to do their jobs.
Right now scientists are trying to find ways to remove the debris from low Earth orbit but there isn't a safe way to clean up our intergalactic mess.
As of January 2021, SpaceX had already launched more than 700 new satellites into orbit. The company received an $890 million grant from the FCC in December to put even more satellites in orbit as part of the Rural Digital Opportunity Fund that aims to bring internet to underserved areas of the U.S..
If Viasat is successful in their efforts it could halt one of SpaceX's biggest programs: the Starlink internet service. Starlink is an ambitious project that SpaceX CEO Elon Musk hopes can one day provide internet to the entire globe, regardless of how remote a user is. Musk also believes Starlink can challenge some of the U.S.'s biggest telecom providers, including AT&T and Spectrum.
John Barentine, director of conservation at the International Dark-Sky Association, told dot.LA there is still more work to do in understanding the dangers of SpaceX's work.
"We do not yet fully appreciate the variety and significance of hazards associated with the deployment of thousands of new satellites into Low-Earth Orbit (LEO), which is quickly becoming a crowded place," Barentine said.
"The chances of catastrophic collisions among objects in these orbits are rising rapidly, and we risk a 'cascade' effect wherein collisions generate debris that can in turn cause more collisions and more debris," Barentine added. "What we know about the mechanisms and probabilities involved is certainly cause for concern, and the hazards are very real, given various space operators' publicly announced launch plans this decade."
Barantine referenced a recent Nature Scientific Reports paper that examines the effects mega-satellite constellations have on the Earth and said it basically "argues Starlink may be literally changing the chemical composition of the Earth's atmosphere."
The FCC's April license approval allowed SpaceX to move its satellite constellation 550km higher into orbit, and expand the size of the overall project to 4,408 satellites. That change SpaceX said was needed to trim down latency, lag and improve other uses of the network like video calls or gaming.
Starlink internet isn't yet widely available but SpaceX has launched over 12,000 interconnected satellites. The program is in its beta testing phase. Los Angeles users can submit pre-orders but don't have a usable version of the service yet. SpaceX told dot.LA in March that it's planning to "continue expansion to near global coverage of the populated world" in 2021.