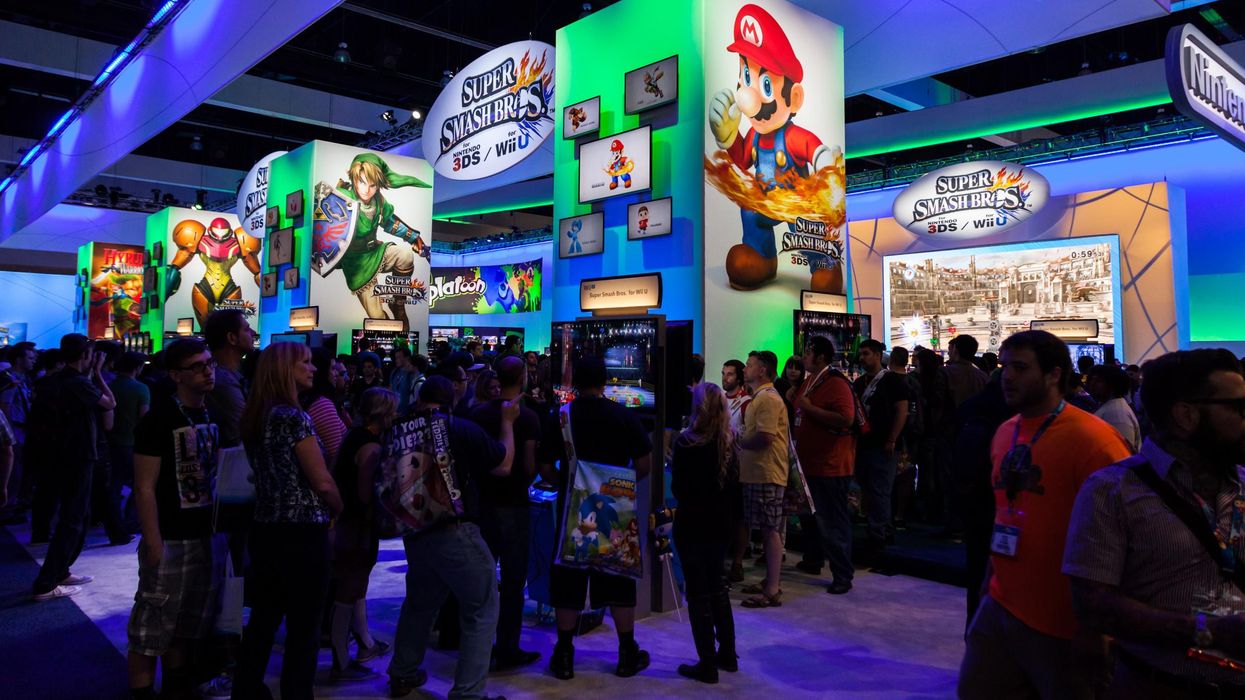 The Entertainment Software Association's decision to hold its annual E3 mega-convention as an online-only event this year is yet another blow to Los Angeles' struggling local tourism and events economy.

The world's largest gaming expo has traditionally been a blowout summer ritual in the heart of Downtown L.A., drawing tens of thousands of visitors annually to the Los Angeles Convention Center and its surrounding attractions. In 2019, the ESA reported that roughly 66,000 people attended its three-day event that June.
---
After the coronavirus pandemic forced organizers to cancel the 2020 expo, E3 went fully remote for the first time last year as a free, virtual event broadcast online. But while there was hope that the convention would return as an in-person affair this summer, the ESA announced last week that "ongoing health risks surrounding COVID-19" mean that the event will be held online again this year.
It is yet another setback for a local tourism economy that has only begun to recover from the pandemic's devastating impact. In 2019, E3 generated $83.4 million for the city's economy, according to the Los Angeles City Tourism Department, with overnight attendees purchasing more than 29,000 hotel room nights to accommodate their stays in L.A. Besides die-hard gaming fans from around the world, the expo also attracts executives from across the video game industry—including those from prominent overseas firms like Sony and Nintendo who travel with corporate expense accounts in hand.
Doane Liu, executive director of the Los Angeles City Tourism Department, told dot.LA that local restaurants, bars and other retail businesses will lose tens of millions of dollars in revenue once more his year as a result of E3 going remote.
"We can only charge so much [at the convention center] for rent and parking and a hot dog at lunch," Liu said of the city's E3-related economic activity. "Where the real money is spent is when those business travelers are booked for nights at the J.W. Marriott, and go out to several dinners on their companies' expense accounts."
Liu noted that hotel occupancy in L.A. has yet to fully recover from the pandemic, which has hindered the amount of hotel tax revenue that the city can collect from hospitality operators. Average occupancy plummeted from 80% in 2019 to 49% in 2020, according to hospitality consulting firm HVS, with the city's hotels currently hovering around 70% capacity, Liu said.
"That's one metric that's near and dear to our heart, because we collect bed tax and that helps pay for some of the city's budget," Liu explained. "We practically give away the convention center if [organizers] agree to book a certain number of hotel rooms… It's really an incentive to bring business travel to Los Angeles."
Like any event, E3 also generates sales tax income for the city as well—mostly from local shops and eateries in the L.A. Live entertainment complex and other Downtown businesses near the convention center. Estimated local taxes generated from the last in-person E3 in 2019 totaled $3.5 million, according to the City Tourism Department.
But it's not just E3's cancellation that concerns Liu and other city officials. Amid the ongoing spread of the omicron variant, there is fear that more major events—such as the Anime Expo in July and L.A. Comic Con in the fall—could potentially be impacted this year. "We've canceled over 300 events because of coronavirus," Liu noted. But he added that roughly 80% of those events were able to be re-booked, and said the city is having no issues finding interested replacements for the ESA's vacant three-day slot this summer.
E3 is passing on an in-person convention despite 2021 being the gaming industry's biggest year on record, as the pandemic spurred more consumers than ever to pick up controllers and entertain themselves at home. U.S. consumer spending on video gaming totaled $13.3 billion in third quarter of 2021, according to market research firm NPD Group—up 7% from the previous year and the highest third-quarter spend in history. Video game developers, in turn, saw profits hit record highs; the big winners included Playstation maker Sony, which doubled its profits to a record $11 billion in its last fiscal year.
Liu said it is "ironic that the pandemic created the conditions for probably the most successful year in gaming sales," and held out hope that E3 organizers will look to share some of that economic growth by returning to Downtown L.A.
"We're very hopeful that the success that ESA members have been having over the last couple of years will translate to getting them back here, as soon as we can have them here safely," he added.