Hundreds of Activision Blizzard employees in Irvine and many more remotely walked off the job on Wednesday to protest a misogynistic workplace culture. They carried signs like "Send the Frat Boys Back to School" and "Every Voice Matters."
---
The move came after California filed a blistering lawsuit against Activision Blizzard last week that portrayed the company as having a pervasive "frat boy" culture where male workers and bosses torment women and executives don't deal seriously with the complaints. The company's initial reaction, it later admitted, was "tone deaf," but infuriated employees and organizers said it galvanized the workers.
"It's no longer about individual victims. The time for individual victims to be heard is in the lawsuit. The time for us to enact systemic change is here," said an Activision employee and one of the organizers, who requested anonymity for fear of retaliation.
The protests sparked a nerve among gamers who called for a day boycott of the company's titles, which include Call of Duty, World of Warcraft and Overwatch.
It comes as the largely white, male tech and gaming industry grapples with a lack of diversity. At Activision, the lawsuit found only 20% of the employees are female.
Activision Blizzard's CEO Bobby Kotick issued an apology ahead of the protest.
"We are taking swift action to be the compassionate, caring company you came to work for and to ensure a safe environment. There is no place anywhere at our company for discrimination, harassment, or unequal treatment of any kind."
It was too little, too late for the hundreds of employees who'd spent the weekend organizing the walkout and drafting an open letter calling for an end to forced arbitration, more pay transparency and worker participation in hiring, among other demands. Kotick's response didn't address those issues, organizers said ahead of the walkout.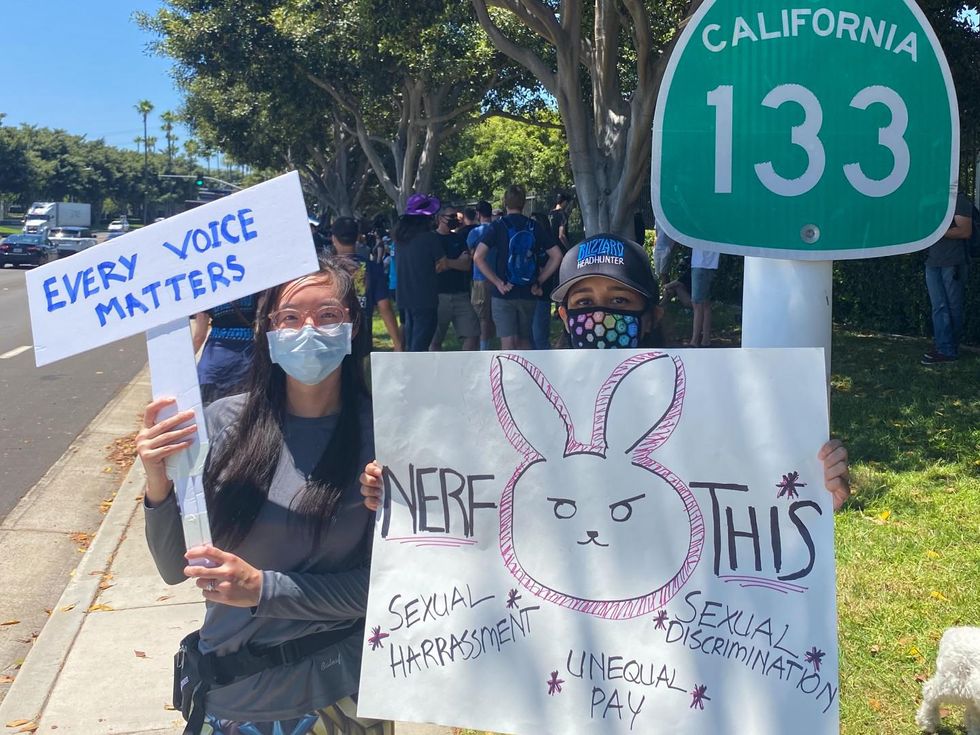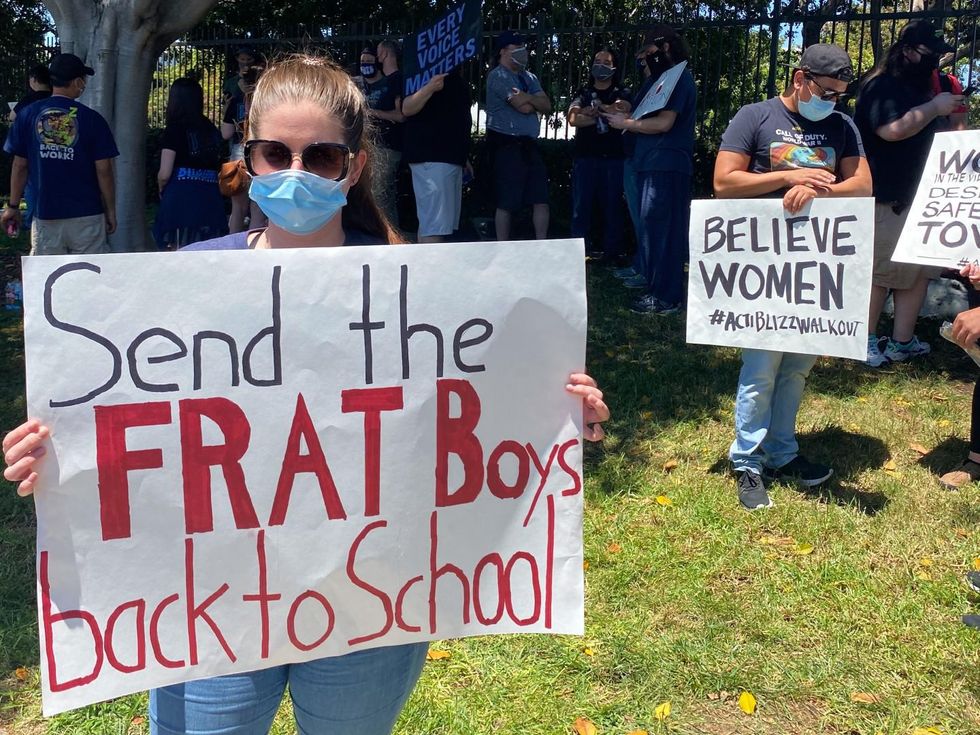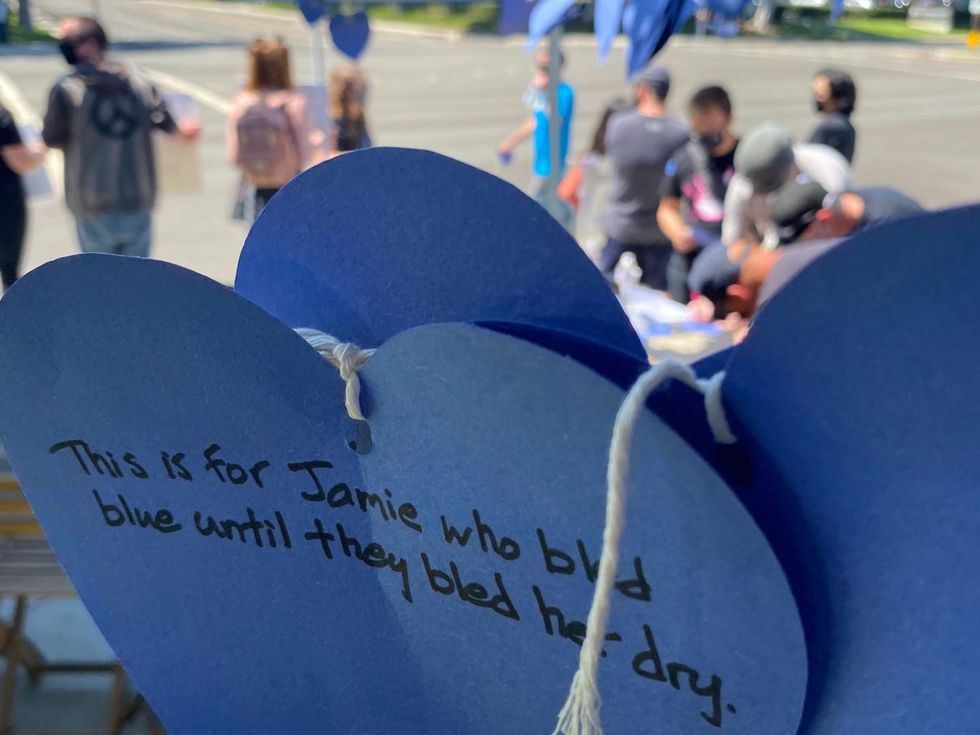 Scenes From the Walkout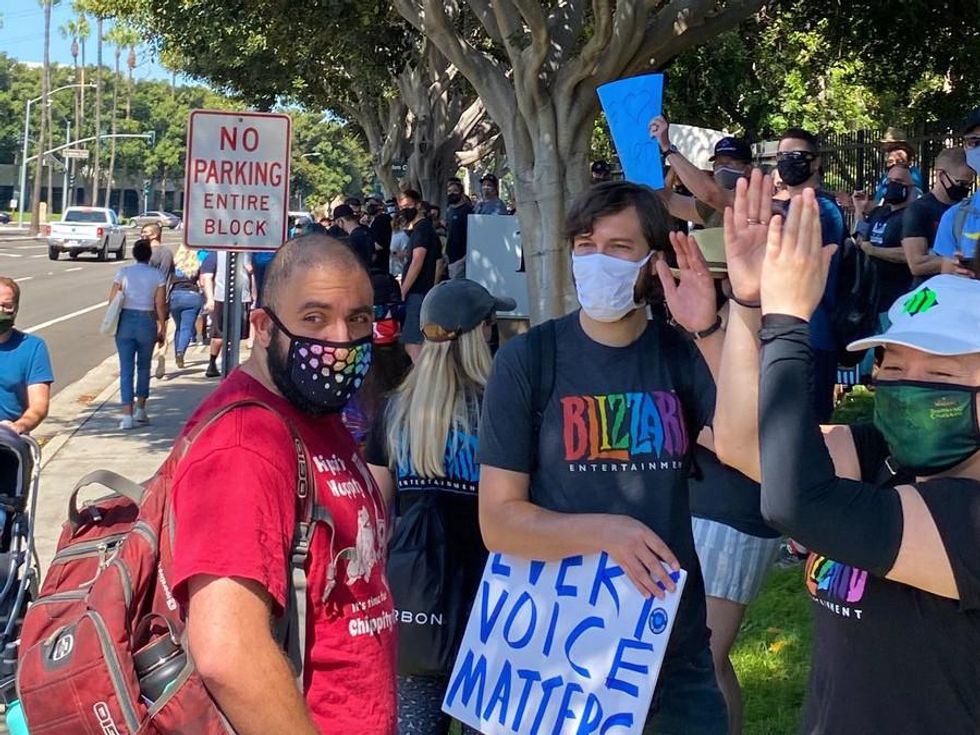 Employees gathered in the shaded grass surrounding the gated Blizzard campus in Irvine, stocked with snacks and water in tubs filled with ice. Activision Blizzard was on damage control and has promised that employees who walked out will be paid.

Outside the front gate of Blizzard employees hung blue hearts with notes expressing solidarity and sharing their own experiences.
"A male coworker repeatedly 'checked to see if my clothes were see through.' Believe women!" one note said.
Organizers said they were pleased they had "convinced leadership to change the tone of their communications," but noted that their key concerns remain unaddressed.
"We want to work with leadership," said the same employee, who declined to be named. "Statements are a start but they are the start of a long conversation that has to be had."
Protesters, many wearing Blizzard t-shirts, sat on picnic blankets and lawn chairs and held posters bearing slogans including "Walking Out For A Better Blizzard." There were even a few pet dogs.
"This is a problem that permeates throughout the gaming industry," said another employee, who also requested anonymity. "We have an opportunity to serve as a form of ignition for this movement to soar."
Activision Blizzard's shares closed up on Wednesday.
Read organizers' demands below: