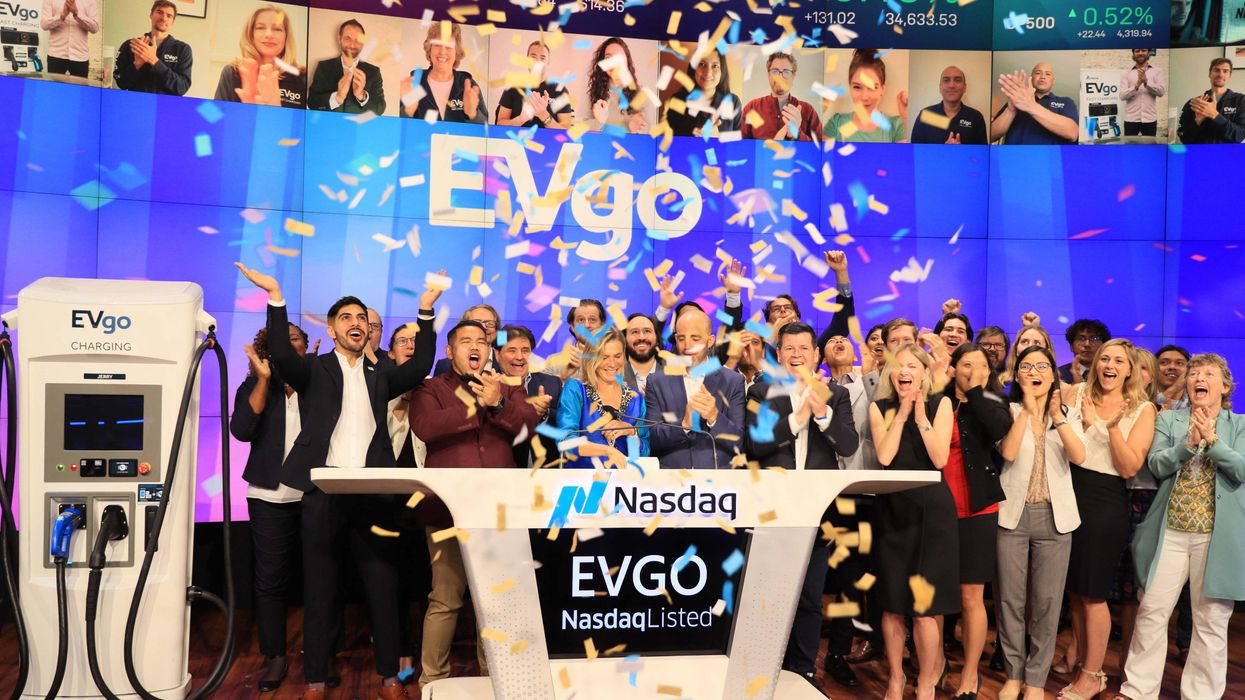 One of the nation's largest EV charging firms, EVgo made its Wall Street debut on Friday but investors seemed underwhelmed. The stock closed slightly up, .67% higher.
El Segundo-based EVgo announced in January that it would join other EV companies going public via SPAC with a $2.6 billion valuation. It merged on July 1 with Climate Change Crisis Real Impact I Acquisition Corp.(CLII) to officially become EVgo Inc.
---
Trading on the Nasdaq under the "EVGO" ticker, shares opened at $15 and closed at $15.10.
The company has tied up several deals with businesses and major automakers amid a push to rapidly expand the United States charging network. EVgo is banking on forecasts of 100 million battery electric vehicles on US roads by 2040, up from a little more than a million in 2020.
"EVs are here, the time has come," said EVgo CEO Cathy Zoi ahead of the opening bell Friday. "The question is no longer if transportation will electrify, but how quickly. EVgo is here to do our part to ensure access to charging infrastructure is not an inhibitor of that market transformation but rather an enabler."
Zoi and the rest of EVgo's former leadership will continue in their posts with the newly merged company. David Nanus will serve as chair of the EVgo Inc. board.
It comes as the U.S. is racing toward electrification.
In California, Gov. Gavin Newsom signed a mandate for most new vehicles sold in the state to be electric by 2035. Since then, automakers such as General Motors, Ford, Volvo and Honda have announced all-electric goals in a similar timeframe.
And EV charging companies like EVGo are poised to benefit from the proposed $1.2 trillion federal infrastructure plan backed by President Joe Biden last week.
"EVgo's evolved from being a first mover in providing charging for the earliest generation of EVs, to today's market leader in deployment of metropolitan mass transit, in providing charging for fleets which share our vision for electrification, and in developing software that delivers delightful customized charging experiences for our customers," Zoi said.
Founded in 2010 and acquired by New York-based LS Power in 2019, EVgo is one of several charging companies trying to grow its U.S. presence and team up with various automakers with EVs on sale or soon to go on sale.
Those EV charging companies include L.A.-based rival EVConnect, Electrify America, and the publicly traded ChargePoint and Blink! All of these firms have also connected with car companies to support home charging or free and subsidized free public charging.
In April, EVgo was named as a partner for GM's Ultium Charge 360 grouping of charging companies which will support its current models like the Chevy Bolt EV and upcoming plug-in electrics from Cadillac and GMC. The move is seen as a way for GM to arrange a nationwide charging infrastructure for its customers without having to build and operate its own stations like the Tesla Supercharger network.
EVgo says it operates more than 800 DC fast chargers across the country, currently in 34 states and with more than 250,000 customers. It signed a deal last year with GM to add more than 2,700 fast-charging stations across the US, while an agreement with Nissan will add an additional 200. It also has existing deals with grocery chains such as Kroger and Whole Foods to install chargers at certain U.S. locations.