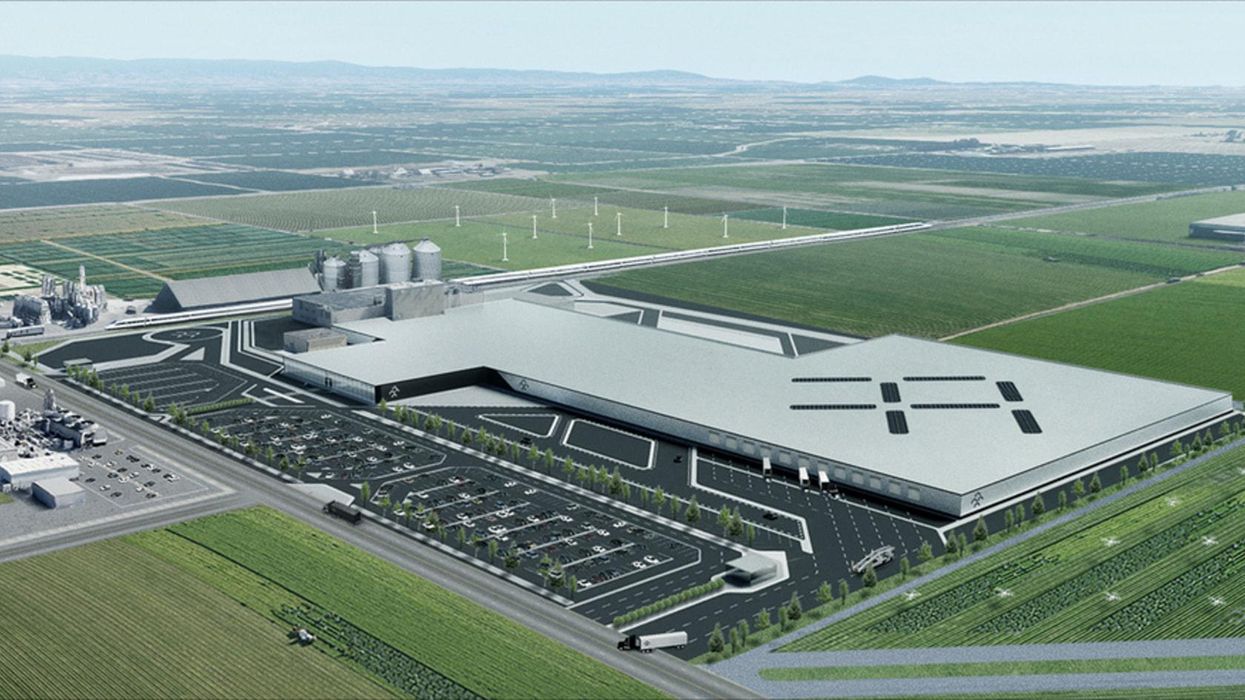 After a string of funding problems that have delayed the release of its first car, Faraday Future announced Tuesday that production would start by July 2022 at an assembly plant in Central California.
---
Irvine-based architecture firm Ware Malcomb is set to finalize the building's design and engineering for an automobile plant in Hanford, California. Faraday says the 1.1-million square-foot building can produce 10,000 vehicles per year when it's up and running.
Faraday Future, which announced a $3.4 billion SPAC merger in January with Property Solutions Acquisition Corp (PSAC), said last March a $100 million debt financing would allow it to begin production on the FF91 electric vehicle in Hanford. Until now, it hasn't delivered on its production promises for the consistently delayed luxury EV.
"FF has already completed significant investment at our Hanford manufacturing facility, and with the additional funding from our merger with PSAC, we anticipate that the plant will be up and running in the near future," CEO Carsten Breitfeld said in the announcement.
Faraday Future's Facility in Hanford, California
The luxury FF91 SUV is set to compete with vehicles like the Tesla Model X. Faraday promised the FF91 would go from 0-60 mph in 2.4 seconds, while it featured a tech-heavy interior. Customers were asked to put down $5,000 for a refundable deposit for the car that most recently was supposed to begin production at the end of 2020.

The Gardena-based startup will also work with Tesla manufacturing partner Myoung Shin to make more vehicles in South Korea, including models other than its 1,050-horsepower debut electric car. Faraday said it secured a former General Motors plant there for additional production capacity, although it didn't specify on production capacity.
The company was founded in 2014 and showed a high-performance electric supercar at the 2016 Consumer Electronics Show in Las Vegas. But the following year, it unveiled the more mainstream FF91.
It leased the Hanford facility in 2017 after canceling plans to build a $1 billion plant near Las Vegas, even though construction had already started. But money problems had beset Faraday Future since 2016 and continued to delay the start of production for the FF91 and other models were dropped from its plans. The company furloughed hundreds of workers in 2018 and sold its Gardena headquarters in 2019 to raise cash.
Its co-founder and former CEO, Jia Yueting, was also caught in a financial scandal. His assets in China were frozen and he moved to California permanently, where he spent millions on homes and other purchases. Jia filed Chapter 11 bankruptcy in the United States in 2019.
The controversy with Jia also resulted in then-chief technology officer Ulrich Kranz and chief financial officer Stefan Krause to leave the company. Kranz and Krause later founded Torrance-based Canoo Inc. (Kranz recently left Canoo for Apple).
Faraday Future didn't elaborate on how many additional vehicles it hopes to produce in South Korea or how many additional markets it plans to enter, but the company said it's brought on key people to ramp-up assembly. In March, the company hired a former Jaguar Land Rover executive to establish operations in China.