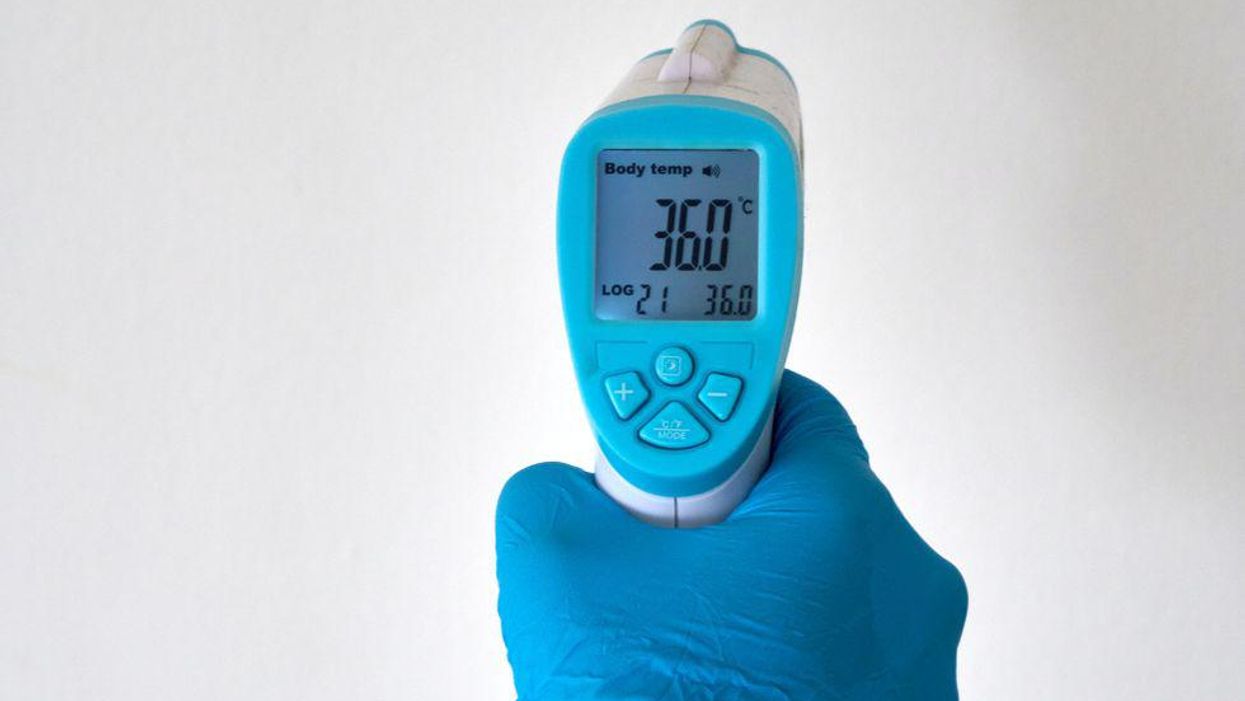 The COVID "passport," a concept public health officials toyed around with during the pandemic that has fallen into disfavor, is slowly emerging in different iterations as vaccinated people unmask and private businesses open up.
---
British Airways is letting passengers upload their vaccination status to its smartphone app (though it's unclear if lack of a vaccination status is a barrier to entry on flights). Staples Center will require proof of a vaccine, as will Dodger Stadium and the Los Angeles Football Club, where viewers will sit in designated parts of the stadium or arena.
Most of these companies will rely on the white card that people get after being vaccinated, or a negative PCR test. Los Angeles County has partnered with Healthvana to offer Angelenos digital cards they can use to share their vaccination record without losing or damaging the physical copy.
The debate over "passports" comes at a time when businesses are struggling with how to open to as many people as possible, while also granting safety to immunocompromised customers and those concerned about their safety. Adding to the complexity is a public that is uneasy — in some cases outright hostile — to the idea of having to offer proof of vaccination.
Courtesy of Healthvana
As vaccinations rolled out, Healthvana made it possible for those vaccinated at a county site to download their vaccine record and upload it to their Apple Wallet.

Healthvana CEO Ramin Bastani said employees at some companies, who he declined to name, are already using the app, which can integrate into the Apple Wallet to verify whether people are vaccinated.
"They can use it if they want, how they want," Bastani said. "And likely they will have to use it for schools depending on their age or university."
The Los Angeles-based company had advertised its digital vaccine record as a way "to return to work, school, get on a plane, etc.," and Healthvana says it's working with large event planning businesses, stadiums and other large companies who are toying with the idea of some sort of vaccine validation.
And people are using it. The company estimates hundreds of thousands of people are integrating their vaccination record into their Apple Wallet.
A few other companies are also offering a similar feature. Clear, the company behind a TSA clearance app, is deploying a feature known as the Health Pass that would allow stadiums to confirm people's vaccination status. AT&T Park in San Francisco is one of its customers.
Healthvana officials are careful not to call their app a "vaccine passport". Rather, Healthvana says it is a way for patients to have access to their record, which is part of the P in HIPAA — the Health Insurance Portability and Accountability Act, established in 1996 that protects patient's privacy.
"This is your medical information. You have a right by way of HIPAA to a copy of your medical information, and that's getting captured by Healthvana," Bastani said. "You also have the right to modify that information if it's incorrect, if your date of birth is miscaptured."
Nonetheless Healthvana's technology follows the app-based model of many of the COVID vaccine passports out there. Israel's "green pass" is an app that can show vaccination records. Denmark's Coronapas follows a similar model.
"I'm not sure it matters what we call it as much as it matters that we have a way to verify who has been vaccinated," said Shira Shafir, a UCLA associate professor of epidemiology.
Other countries have embraced the idea of a centralized record system. Israel's system, for instance, connects fingerprints with passports and I.D. records. Same goes for Denmark. A centralized system would make it easier for states and municipalities to regulate how COVID passports would work, what kind of information would be on it, where data is stored and the rules for entering public spaces.

In the absence of a single solution in the U.S., Shafir said businesses that adopt some sort of COVID passport will have varying requirements, making it more cumbersome and less viable for individuals.
"It's incredibly redundant, and it's annoying and burdensome for the people who were doing the submitting. I want to go to an event on campus at UCLA — I have to submit it. Then I want to go to a different event — I'm going to have to show it."
Bastani said Healthvana does not expect its technology to be used as a systematic way for people to enter buildings or stadiums, though in December the company had thought, "that there might be the use case where the federal government would require some sort of information if they jumped in, and we were ready for that."
One thing that Healthvana's digital vaccination record does have that gives it an added value is a feature that can share which variants one has tested positive for — a useful tool to further track the virus in all its forms. Plus it can continuously update, a useful tool as Pfizer and Moderna both work on creating booster shots on top of their two required vaccines.