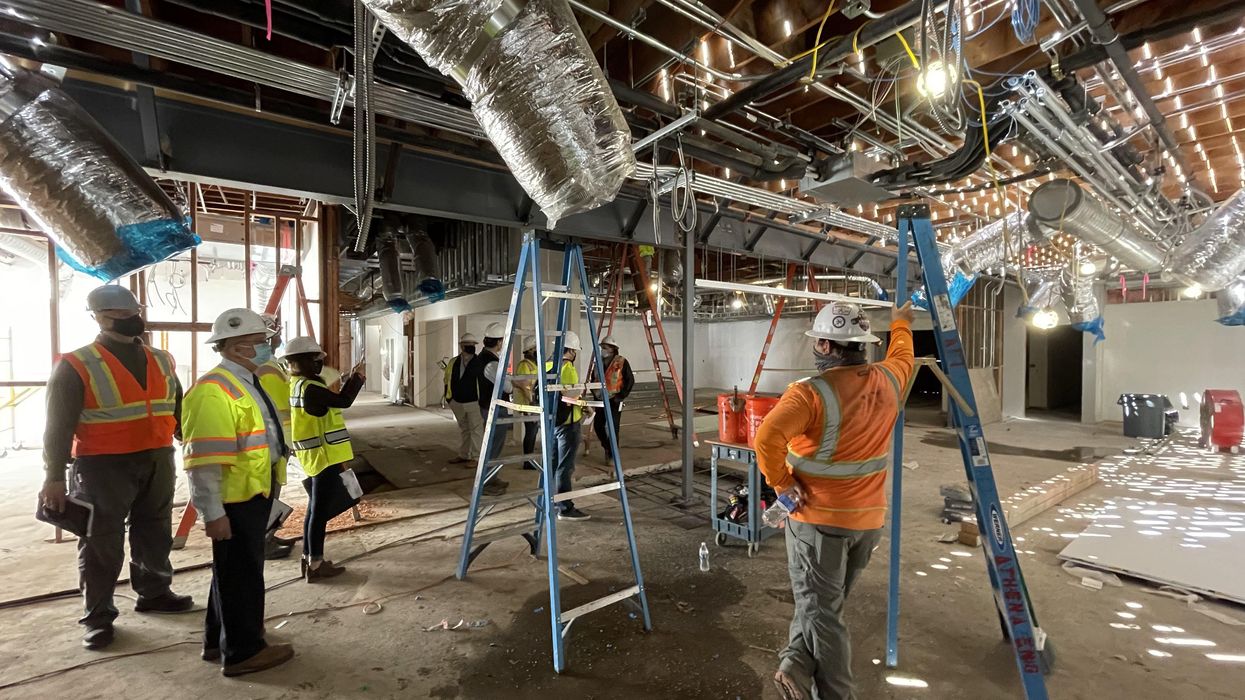 After years of playing second fiddle to biotech hubs like San Diego and Boston, Los Angeles is doubling down on its investment in bioscience.
Next month, the 20,000 square foot BioscienceLA office opens in Culver City (on the site of an old county courthouse), to act as a "headquarters" for the many bioscience startups, entrepreneurs, and researchers scattered across L.A. County. The county invested more than $10 million into the project.
---
In the neighboring area of Baldwin Hills, L.A. City Councilmember Mark Ridley-Thomas spearheaded a project to dust off a handful of decades-old abandoned parcels for a project known as Marlton Square. Though the project has yet to break ground, it's expected to include lab space and a collaboration space for venture capital firms, bioscience startups and entrepreneurs.
"We have all of the pieces here," said Dave Whelan, the CEO of BioscienceLA. "We need a sort of connective tissue that brings those resources, brings that energy, brings those developments together."
Los Angeles never enjoyed the reputation as a biotech hub the way San Diego and Boston have, partly because of its geography. There are clusters of biotech development teeming in different parts of the city and county, but they're all separated by freeways.
Big pharma giant Amgen, for instance, is surrounded by a slew of startups in Thousand Oaks. Companies spun out of USC, UCLA and CalTech stay in the nearby neighborhoods, as many researchers still work at those institutions and sometimes use their facilities.
The Westside is scattered with biotech companies thanks to the Lundquist Institute and Kite Pharma. Further inland, where the land is vast, developers are looking to build manufacturing facilities that serve as an important production arm for the industry.
"Because it's spread out in all these little clusters, (Los Angeles) has never really gotten the traction that it should because it's sort of hard to connect all the dots," said Shaun Stiles, executive director of the real estate firm Cushman and Wakefield who tracks bioscience real estate development. "When you have these life science developers or owners coming in, looking into L.A., they're used to doing stuff in Boston, San Diego and all these big hubs."
That might change as L.A. County continues its large-scale investments in the industry. Los Angeles County signed off on research firm Lundquist Institute's 15-acre biotech park at the Harbor-UCLA Medical Center last year. It has sunk economic development dollars into the high-paying field of bioscience and a handful of other industries due to the projected growth of job development in the industry.
Last summer it allotted $15 million to a bioscience investment fund to spur homegrown biotech startups. According to the county, the local bioscience industry netted more than $44 billion in economic activity and 195,820 jobs.
"I see bioscience as a phenomenal opportunity in this area for two reasons: the industry has tremendous value to our health and health systems, and careers in the bioscience industry tend to pay family-supporting wages, providing an opportunity for low-income communities of color to enter into the middle class," said Ridley-Thomas, who as a former county supervisor was also heavily involved in BioscienceLA.
Whelan, for his part, envisions L.A. becoming the home to some of the biggest bioscience innovations in the country, with global bioscience investors flying through the city and camping out of the Culver City building to hold meetings, as opposed to driving from one startup in Thousand Oaks to another in Santa Monica.
"Rather than spending half of the day on the freeway to have two or three meetings across L.A., you spend half an hour on the freeway camp out at Bioscience, L.A. for the day and have about six or seven meetings come to you. And so it becomes much more of an efficient way to kind of connect with L.A."