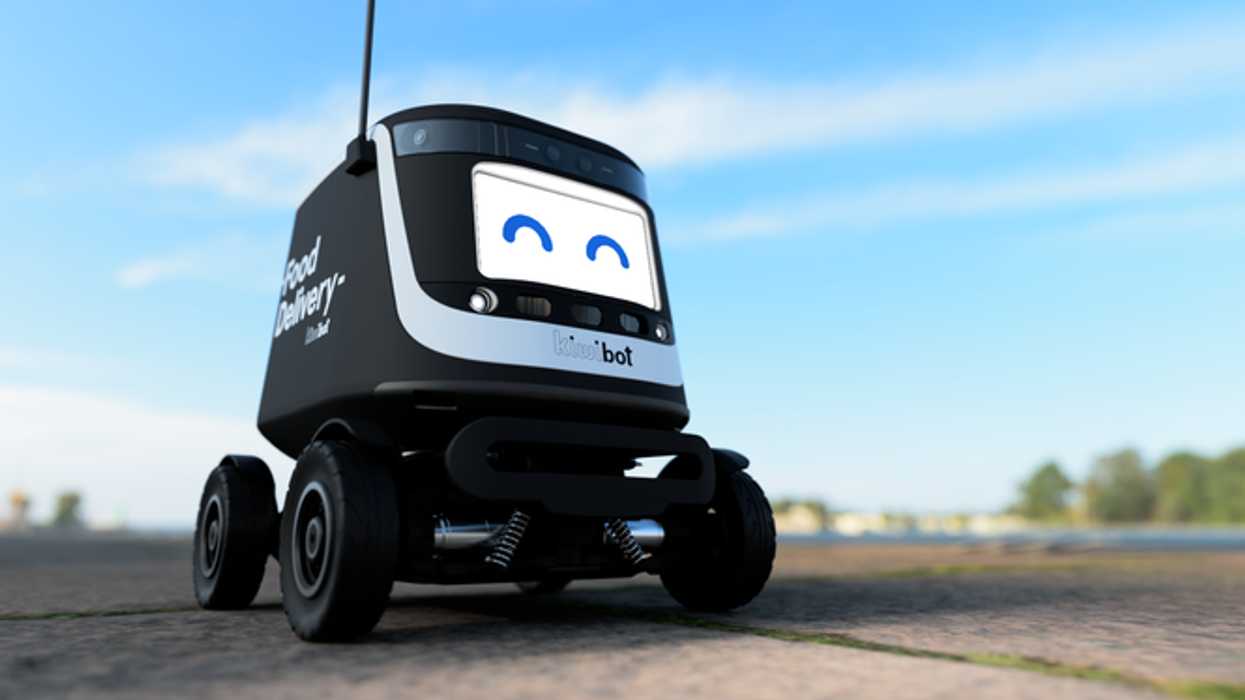 If you live in Los Angeles, your food delivery order could soon be dropped off at your doorstep by a small robotic device rather than a human.
---
Los Angeles is developing rules for robots to deliver food and other goods to Angelenos. It's also looking to roll out a pilot program for robots throughout the city.
But the robots are already here.
Kiwibot has been testing its robots in the San Fernando Valley. Founder and CEO Felipe Chavez has said L.A. will become its most important city as it expands this year.
And startup companies like Los Angeles-based Coco and Starship, based in San Francisco, have developed small, robotic delivery devices operated remotely by humans. Coco, which launched in February 2020, already operates a pilot program in San Pedro. Its 50-pound pink robots use a two-way microphone to communicate with pedestrians on the sidewalk. Amazon's Scout delivery robots have been roaming around since 2019.
And one city councilman thinks now is a good time to establish rules of the road.
"By trying to get in on the early end of this and getting these things permitted and regulated, I think that's going to bode well for the future both for the smooth transition into public acceptance and a better way to go," said Los Angeles Councilman Bob Blumenfield, who first proposed creating the new rules.
West Hollywood and Santa Monica have already implemented a similar program. While Santa Monica restricts its deliveries to a "Zero Emissions Delivery Zone," it doesn't appear Los Angeles will limit where the devices can be used.
Blumenfield doesn't want a situation where robots littered the streets much like electric scooters did before the city developed regulations for them, which caused backlash and contention.
But not everyone wants to see robots taking over potential jobs.
"We've worked too hard to bolster the gig economy in Los Angeles only to see these jobs and workers, many of whom who've struggled to make ends meet during the pandemic, chipped away at by automating this sector," said City Councilman Paul Koretz, who opposed the measure. He noted many rideshare drivers transitioned to food delivery during the pandemic. "Why would we now voluntarily drive away these jobs?"
But restaurants and others often see robots as an efficient alternative to delivery workers. Restaurants typically pay between 15% to 30% on orders placed with delivery services like Postmates or Grubhub. And robots are being pitched as greener alternative to sending an exhaust spewing car out on delivery routes.
Delivery services skyrocketed during the pandemic and city officials said that they are expected to remain "an important business tool" as the economy recovers.
Under the proposed guidelines, operators will pay up to $20,000 for fleets of more than 50 robots with a cap of 75 per council district. And the machines must yield the right of way to pedestrians and bicycles and obey all traffic signals and signs.
It is not expected that operators will deploy large-scale operations for now, the city said.
"Our sidewalks are already congested with scooters and bicycles, homeless encampments, street vendors, illegal signs and to add more vehicles to the sidewalk intended for pedestrians is a recipe for disaster," Koretz said.
In response to his colleague's comments, Blumenfield said in an interview, he shared those concerns, but, "You don't deal with those things by stifling innovation; you deal with those things by dealing with them upfront."