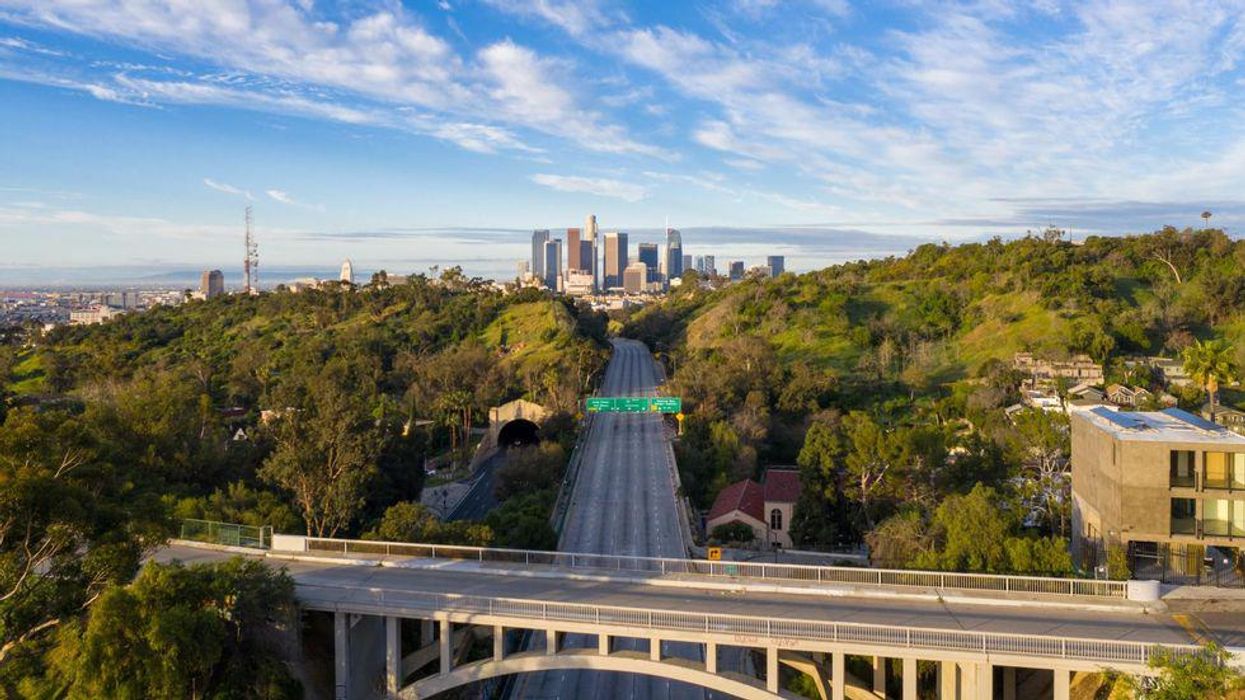 There are a number of government-backed initiatives in Los Angeles currently in motion to shift to improving air quality and electric vehicle adoption. But two City Council members believe multiple — and sometimes disjointed — plans aren't making progress in the face of the climate crisis.
---
On Friday, Paul Krekorian (District 2) and Mitch O'Farrell (District 13) introduced a motion to create an electric vehicle master plan for Los Angeles, effectively bringing together all of the existing moves by the city and the L.A. Department of Water and Power to create a "roadmap" for electrification of vehicles.
The master plan is intended to lead into the LA100 study to get the city entirely on renewable energy sources as soon as 2035.
Their motion came days before the U.S. Senate passed a $1 trillion infrastructure bill that includes $7.5 billion for electric vehicle charging stations and $73 billion to upgrade the nation's electricity grid.
"Reducing and eliminating greenhouse gas directly benefits the working class and communities of color, as millions live adjacent to busy streets and even busier highways," O'Farrell said in a statement to dot.LA. "To achieve equitable de-carbonization we must focus our investments thoughtfully and strategically."
O'Farrell represents neighborhoods including Atwater Village, Elysian Valley and Hollywood. He is also the chair of the City Council's Energy, Climate Change, Environmental Justice, and Los Angeles River Committee.
The master plan is also aimed at some of L.A.'s most congested and polluted corridors. In District 13, that includes the 110/101 interchange, as well as portions along Interstate 5.
In the motion, Krekorian and O'Farrell want the city and LADWP to work together on the master plan to best utilize state and federal funding for the mass adoption of EVs. The plan would also include an "equitable placement of electric vehicle infrastructure," across the city, including provisions for residential, commercial and industrial users.
The motion, which builds on the 2015 Los Angeles Sustainability Plan, as well as the 2019 Los Angeles Green New Deal, came one day after President Biden signed an executive order that set a goal for half of all new car sales to be either plug-in hybrids, full battery electric vehicles or hydrogen fuel cell vehicles by 2030.
And it also came just a few days before an Intergovernmental Panel on Climate Change report warning of widespread temperature changes and rising sea levels globally.
In January, Mayor Eric Garcetti identified 62,851 EVs registered within the city, less than 1% of the vehicle population. The city has already committed to going to an all-electric fleet of government vehicles by 2028.
In addition, the city still has a goal of providing 28,000 commercial vehicle charging stations by the end of the decade, and 15,000 by 2025. L.A. also has just over 11,000 chargers for commercial EVs.
For passenger vehicles, the city has worked to install charging stations at government buildings, city parks and libraries. LADWP is also in the middle of installing curbside chargers mounted on street lamp posts throughout L.A.
O'Farrell's office told dot.LA that incentives for residents and businesses should factor into the master plan, though they haven't determined the scope.
While LADWP currently has its own programs for residential, low-income vehicle owners and commercial customers, much of it depends on available state funding, which in turn relies on federal funding. The new infrastructure bill could change some of the existing programs.
A new federal infrastructure bill may also affect how much funding can go to building out the public charging network and rebates offered to LADWP customers.
And a master plan eventually approved by the city could face hurdles similar to the federal bill, especially following Garcetti's ambassadorship nomination last month and the gubernatorial recall election in September.
O'Farrell's office hopes the master plan motion comes before the energy and climate change committee sometime next month, with the intent to put it to the full council in October.