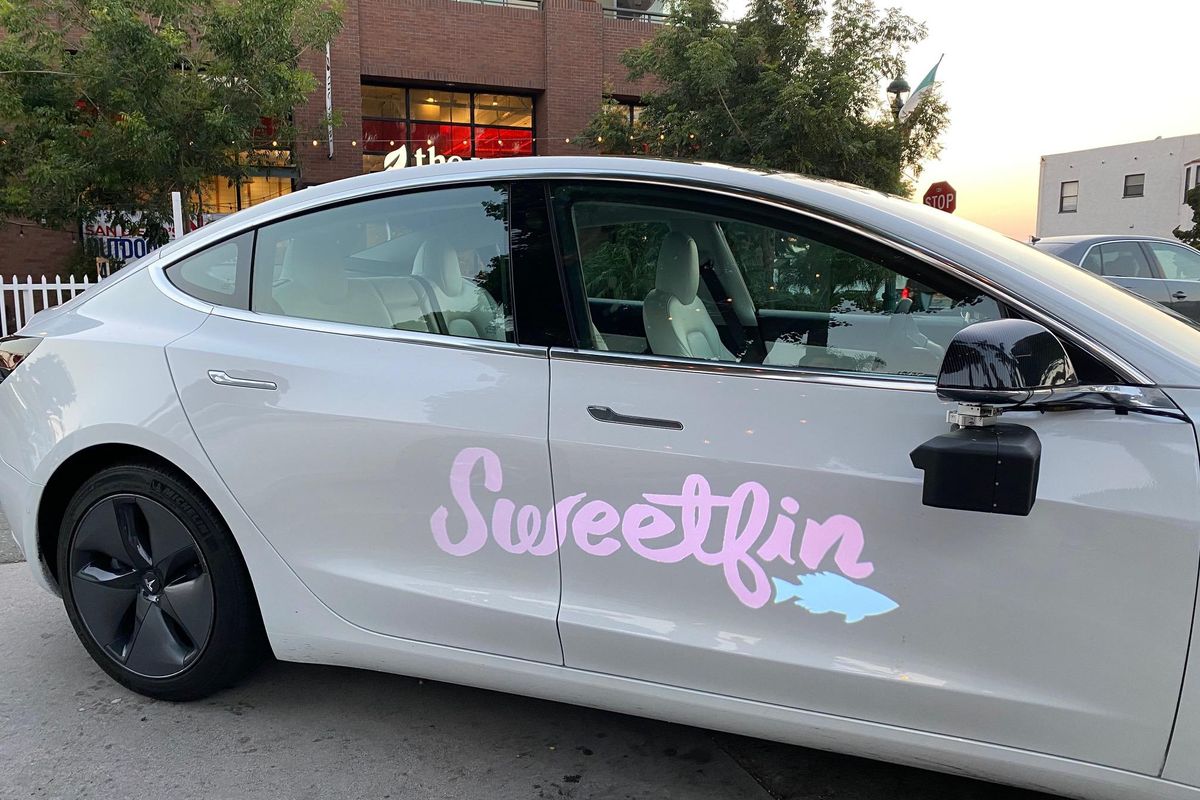 Culver City-based Adway is offering Uber and Lyft drivers hundreds of dollars every month to project ads on the sides of their cars.

So far, the company has signed up about two dozen drivers in Los Angeles, where competitor Firefly faced fierce pushback a few years ago from city officials who sought to ban digital ads on moving vehicles.
---
Adway promises drivers $50-$350 a month in what they call "passive" income. All the drivers have to do is install a small device that sits just underneath their vehicle's side view mirrors.
CEO and co-founder Sasha Krylov said his wife deserves much of the credit for the idea. A feature on a car she saw called a "puddle light," which projects a logo or image on the ground when one of the doors is opened, caught her attention. She felt the image was trying to communicate something.
"I told her it was just a gimmicky logo," Krylov said. "But I thought to myself, 'what if she was right?'"
It was this epiphany that eventually led Krylov to this moment. Last week, the nearly three-year-old company clinched a $6 million seed round led by Upfront Ventures.
Among its advertisers are Webex by Cisco and poke restaurant Sweetfin. Adway gives these companies an estimate of how many impressions their ads made by determining how many Bluetooth devices came within a certain radius of the vehicle. Krylov said this one-way communication system does not collect personal data from the devices.
Krylov decided to project on the side of the car because, according to him, it was his only option. In his research, he learned that it was illegal in California to project an image on the ground, as the puddle lights do, when the vehicle is moving. The same went for the front and the back of the automobile.
"The only thing that was left, really, was the side of the car," said Krylov. "Coincidentally enough, the side of the car presents the largest possible real estate on the body of the car, which any advertiser would want to capitalize on."
Another early concern was the mere fact that projections do not show up well in daylight, meaning that Adway drivers can only make impressions on customers between dusk and dawn. At first, Krylov worried that this could be a limitation for the company, but he has seen only promising results.

"To our surprise, [it] actually makes a lot of sense if you think about this," Krylov explained. "A lot of traffic is actually concentrated in the evening, between 4 and 7pm, and if we're not talking about summertime, it goes dark around 4, 4:30. And people are more prone to making purchasing decisions after work hours rather than before."
Despite this, looking into hardware options in the future that can allow these projections to be seen during the day is also on the docket for Adway.
"This is what we're building this technology towards," said Krylov. "We just need to start somewhere, and somewhere is now, because there's still a tremendous amount of the market to be seized, and there's an opportunity for us to build a community of intellectual property around this today."
Adway's method of advertising has the potential to stir up controversy. A couple of years ago, L.A. city councilman Bob Blumenfield wrote an op-ed for the "Los Angeles Daily News" condemning San Francisco-based Firefly for their similar advertising method of digital billboards on the roofs of rideshare vehicles.