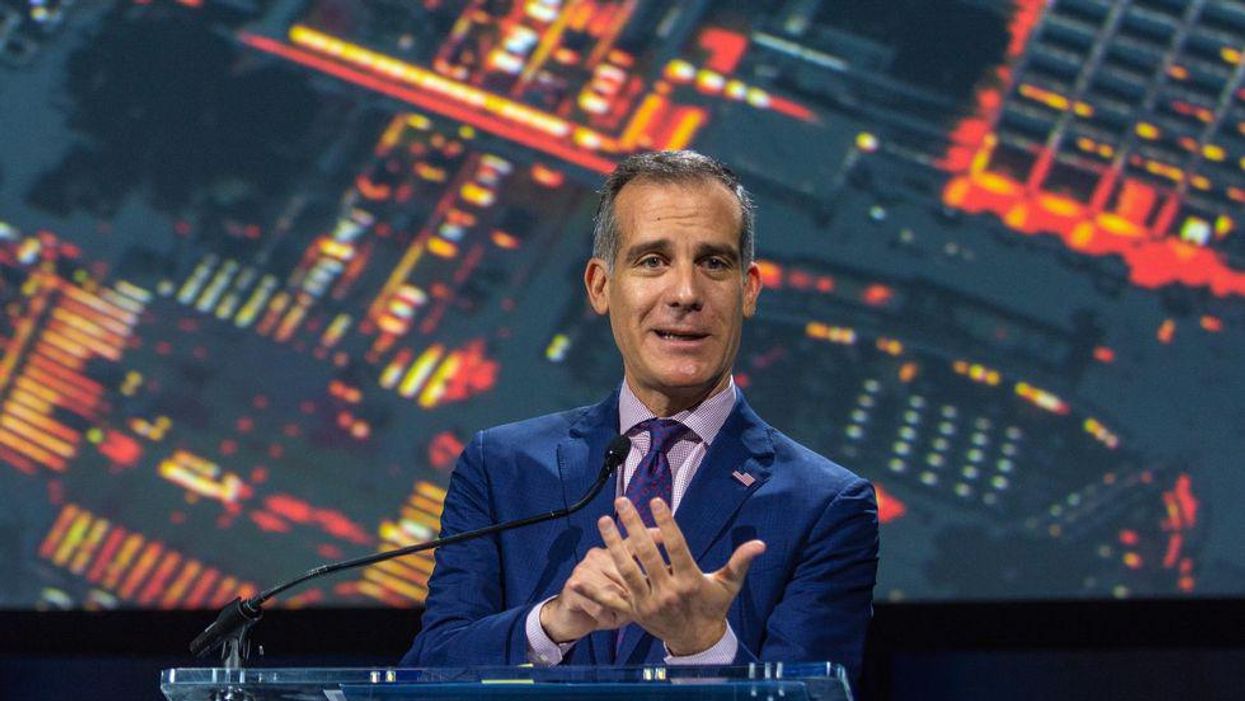 After months of speculation, Los Angeles Mayor Eric Garcetti officially accepted last week President Joe Biden's nomination as his pick to be the next ambassador to India. If confirmed by the U.S. Senate, it will the closing chapter to an eight-year tenure he began with touting himself as the city's first "high tech mayor" in an effort to champion the burgeoning tech startup scene.
Reporter Sarah Favot took a broad look at Garcetti's accomplishments and shortcomings from the tech startup point of view. And while the tech industry erupted throughout the region during his tenure, the discussion in the coming months will likely focus on whether he made good on his promises.
Take our Twitter poll: How would you rate Garcetti's tenure as Los Angeles' first "high tech mayor"?
LA Deals & Startups To Watch 👀
The L.A. tech scene is booming despite an ongoing pandemic and a string of natural disasters in Southern California. This week, we published fresh numbers on the biggest VC deals in the region so far this year. Rocket makers, sneaker sellers and fusion power creators were among those that dominated the list.
Venice-based VR company GIGXR is partnering with the Air Force Academy to simulate wartime applications. The company says nursing students at the University of Pennsylvania have been using the technology to exam virtual patients via an app on their phone.
This week we put Robomart to the test in West Hollywood where the startup is rolling out a small fleet of Mercedes vans stocked like convenience stores and guaranteed to show up at your house in under 10 minutes.
Call it the TikTok Olympics. World 1 League, a venture started by nine Olympians with the backing of Mark Cuban, launched this week with the first of eight competitions this year. The league encourages any athlete to post a video of themselves on Instagram or TikTok doing a long jump along with the hashtag of how long their jump was. Athletes compete for $25,000 and sponsorships.
#TechLA's Movers & Shakers This Week 📢
When it comes to building a diverse tech scene in Los Angeles, Grid110 is taking a leading role with its latest cohort of 15 startups. The Southern California companies range from a San Pedro-based biotech firm that uses gene editing on algae to make food dyes to an online marketplace of shoes and clothing for Mexican folk dancers. Of the 200 companies that have gone through the Grid110's incubator, 70% are led by women and 70% by a founder of color.
And Rising is launching a $2 million fund for direct-to-consumer ventures and tech startups in Los Angeles. Here's the twist: the agency will trade its creative services for stock.
California Crescent Fund is looking beyond the Ivy Leagues and the Bay Area universities to exclusively fund student startups based in Southern California. Among the participating universities are UCLA, USC, UC Santa Barbara, UC Irvine and UC San Diego.
Meet Ifeoma Ozoma, the former Pinterest public policy manager who inspired the California bill that could limit the ways non-disclosure agreements prevent workers from speaking out. dot.LA spoke with Ozoma about her work on the bill and the broader battle for tech workers' rights.
LA Startup Bets & Acquisitions 💎
JOON, an employee benefits software platform that automates the reimbursement process for workers, raised $2.3 million in seed funding. Investors bet that the hybrid workforce of the future will benefit from such a software platform.
L.A.-based software startup Endgame announced this week a Series A round of more than $12 million. Investors bet that the software, which is currently being tested by social media app Clubhouse, will help software-as-a-service companies better utilize their customer data.
Two Southern California biotech startups got swallowed up this week as big pharma benefitted from the record-breaking year of investment in the industry. Eli Lilly acquired Pasadena-based startup Protomer Technologies. Additionally, Curia, the drug development company formerly known as AMRI, acquired El Segundo-based Integrity Bio.
Motorola Solutions acquired the Culver City-based security company Openpath in a move to expand further into the physical space. Openpath uses a three-tier cloud-based encryption method to make the process of entering buildings virtually frictionless by connecting the door sensor to the mobile phone in three different ways.
Listen Up 🎙
Need a podcast recommendation this weekend? Here are some new pods we have for you:
Modern Fertility CEO and co-founder Afton Vechery joins the Behind Her Empire podcast to discuss how rejection became the key to her feeling uniquely suited to address this information gap. Listen on Stitcher | Apple Podcasts | Spotify | iHeart Radio
This week on the L.A. Venture podcast, veteran executive Mike Jones offers his insights on investing, the 2020 ecommerce boom, the future of NFTs and his passion for cyrptocurrency. Listen on Apple Podcasts | Stitcher | Spotify
And on this special episode of the GeekWire Podcast, space journalist Alan Boyle talks about the dawn of a new era in space tourism, what to watch when Amazon founder Jeff Bezos blasts off next week and what's next for commercial space exploration.
🚨 ​EXTRA EXTRA 🚨
Today at midnight, Los Angeles County will once again require residents to mask up in grocery stores, malls and restaurants. The order applies to everyone regardless of vaccination status. We're wondering what kind of impact that will have on offices and workers in Los Angeles. If you have thoughts, share them with us on Twitter.
The Los Angeles Police Department has been using facial recognition technology for more than 10 years. But critics of the department's facial recognition tools say the technology is fraught with problems, including racial bias and misidentification.
Southern California Edison, the region's largest power utility, announced that it plans to install 38,000 electric vehicle chargers in the next five years as the state looks to ban most gas-powered car sales by 2035.
Say you're about to get hired at a startup company and you're given a choice between more cash and less equity, or vice versa. What do you do? Our guest columnist Elizabeth Melton has some advice on what to consider before you decide. Bonus: Take our Twitter poll and see what others are saying.
Am I doing this right? 🤔
Throw me feedback, compliments or questions on this newsletter at luis@dot.la.