Relativity Space Raises $650M for Its Recyclable Rocket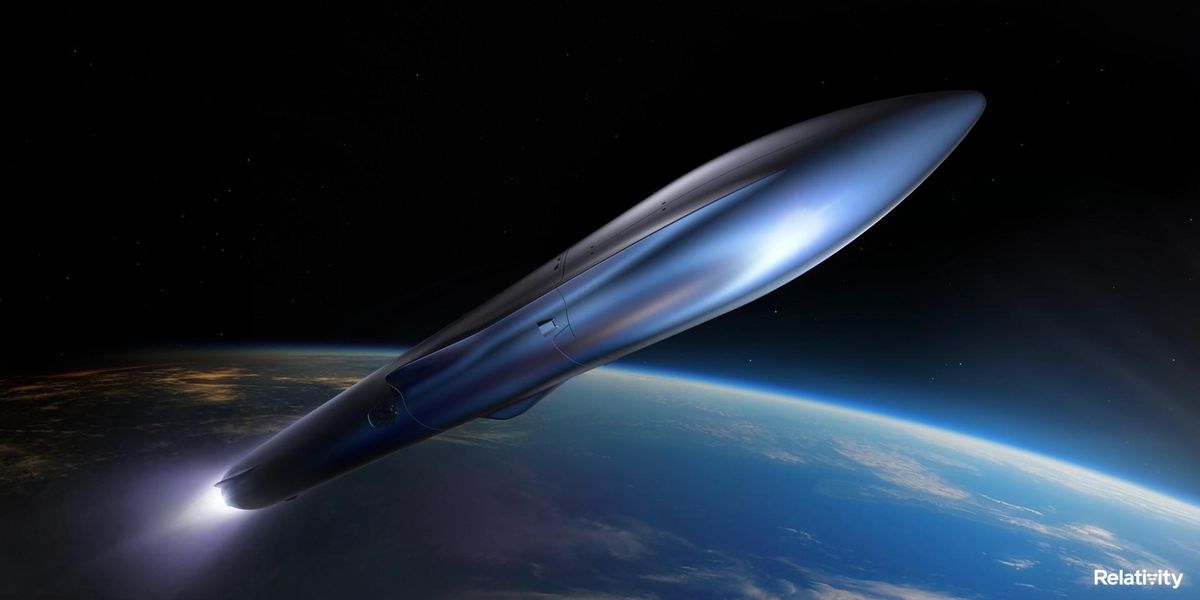 Aerospace upstart Relativity Space and its CEO Tim Ellis are trying to take on SpaceX in the recyclable rocket race. The company has landed a new funding round to produce a fully reusable rocket that could launch within three years.
---
Long Beach-based Relativity raised a $650 Series E round June 8 to fund the development and production of its Terran R rocket, a reusable craft that will be 95% 3D-printed — including its engines — and launch by 2024, according to CEO Tim Ellis.
The new round was led by existing investors Fidelity Management & Research.
WIth this round, Relativity Space has raised roughly $1.9 billion since its 2015 launch, according to investment database PitchBook Data Inc.
Ellis said in a statement that Relativity kicked production into high gear to meet growing market demand.
"There's an organic relationship between 3D-printing and reusability, and it gives us an unparalleled advantage to design the best fully reusable rocket possible," said Ellis. "Over the last year, we found ourselves being asked by the market to accelerate development of our larger launch vehicle, so we knew it was time to double down on our existing plans and scale the Terran R program even faster and build production capabilities at scale sooner."
SpaceX has been reusing rockets -- or parts of them -- since 2010. The company's Falcon 9 rocket is recyclable and has been in use since 2012, and SpaceX first successfully re-lit used rocket boosters during a test the year after. The Falcon Heavy and Starship crafts developed by SpaceX also use reusable components.
Relativity's renderings of the Terran R show a craft that is 216 feet tall and looks like something straight out of "Star Trek." The sleek, aerodynamic craft is 16 feet in diameter and capable of sending over 44,000 pounds into low Earth orbit.
The craft has a lot of firepower -- seven identical 3D-printed engines that will give the rocket over 300,000 pounds of upward thrust each.
The Terran R is the reusable counterpart to Relativity's Terran 1 rocket, which has already secured Department of Defense contracts to launch satellites by June of next year. Telecom companies Telesat and Iridium are two private clients that have signed launch contracts so far.
Relativity said that over 85% of the Terran 1 rocket is printed and is on track for a test launch this year from the company's site at Cape Canaveral, Fla. The Terran R rocket will eventually launch from the same complex.
Besides being recyclable, the biggest difference between the Terran R and the Terran 1 is that the R is capable of holding a payload 20 times bigger.
If the Terran R craft lands successfully and all parts are reusable, it could be a game-changer not only for launch contractors such as the DoD, but also other rocket manufacturing companies.
Automated 3D printing rockets costs a fraction of what a typical rocket production line would, and SpaceX has already proven that reusable rocket parts are both feasible and cheap. With a successful model for reusable spaceflight, Relativity could gear itself up for a flurry of interested launch partners looking to reach orbit for a nominal price.
Other existing investors returned to back Relativity again, including U.K.-based asset manager Baillie Gifford, Tiger Global Capital, K5 Global, Tribe Capital, hedge fund XN, actor Jared Leto and "Shark Tank" star and entrepreneur Mark Cuban.
Spencer Rascoff, a co-founder and investor in dot.LA, contributed to Relativity Space's Series E through his L.A.-based investment firm 75 and Sunny. Rascoff began investing in Relativity Space in 2019 and has also contributed his own personal funds to the company.
New investors including Brad Buss, private equity firm Centricus and New York City-based hedge fund Coatue also joined the round.