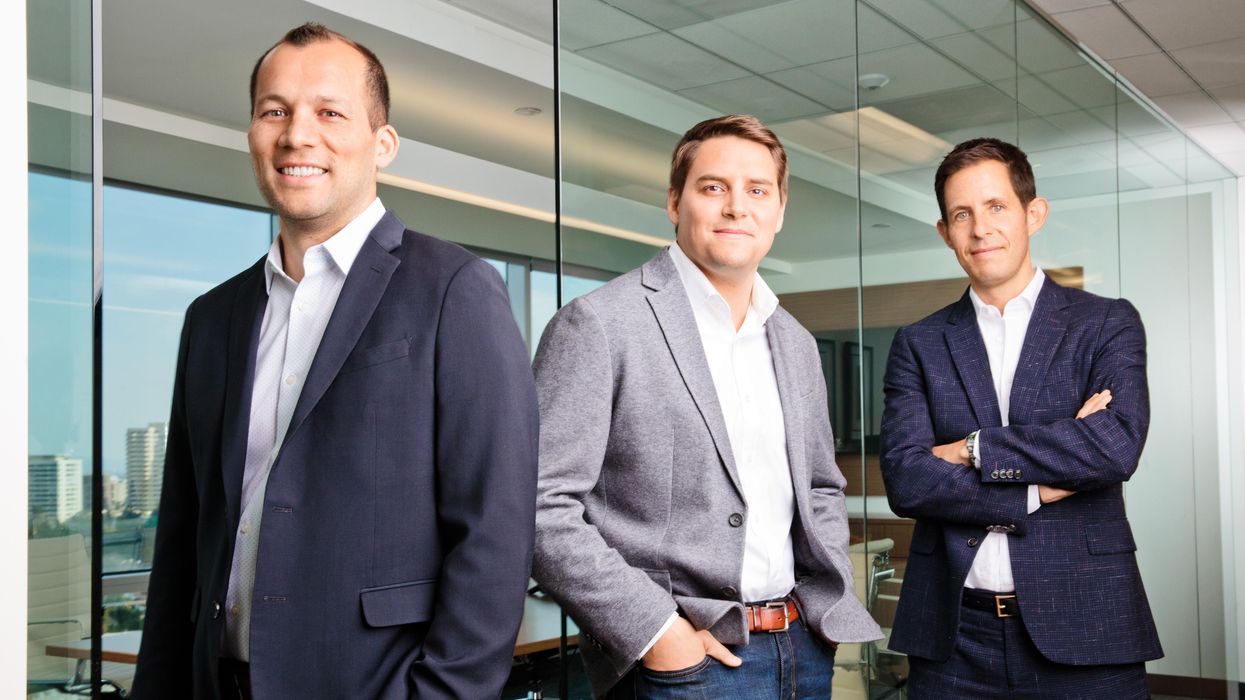 Turns out even well-paid lawyers want deferred payment services.
Dylan Ruga, an intellectual property attorney founded Steno Agency, along with two former executives at restaurant reservation platform Reserve, in 2018. Steno Agency gives lawyers the option to pay for the service once the case is settled.
One headache for attorneys is the cost they have to front when hiring court reporters. Attorneys representing the plaintiff don't usually recoup the cost until their cases have been resolved.
---
"That's where the idea for Steno was born because [Dylan] went looking for a court reporting agency that would defer payment until the case resolves," CEO and co-founder Greg Hong said. He couldn't find one.
The Westwood-based startup prides itself on its deferred payment system, DelayPay, that allows attorneys to hire court reporters and videographers without the worry of upfront costs.
Last week, the company received $20 million in debt financing from Rivonia Road Capital, a global alternative asset manager.
In other ways, Steno Agency isn't very different from most court reporting agencies that offer court reporting, videography, interpreters, remote depositions, litigation support services. But, unlike other court reporting agencies, it has a different payment plan.
Hong boasts that while there are court reporting agencies, litigation finance companies, tech companies within the legal space, "very few companies, if any, are offering all three under one umbrella."
Brad Smiedt, co-founder and managing partner of Rivonia, said strong management plays a role in their decision to finance a startup.
"We wanted to know that there is a reliable, experienced team that is going to be successful," Smiedt said and that's why they were able to finance Steno with $20 million in debt financing. "But because we are getting involved early in the company's lifecycle, we are taking some risk that the company is going to either be successful or not successful."
The agency also offers Steno Connect, a videoconferencing platform built for remote depositions and remote bench trials. Some of the funds will be used to hire more engineers to build and add to their products like Steno Connect.
"It really empowers an attorney to emulate what they would have done if they were there for an in person deposition in terms of the manner in which they would share documents and it just makes the user behavior more natural," Hong said.
In a traditional court setting, exhibit handling can be in the form of an 8×11 poster board that will be shown during a deposition. Attorney's using Steno Connect will be able to share documents seamlessly. Unlike Google Meet, when someone shares their screen, it takes over the whole monitor and prevents you from working.
"So when you would share that document, you'd see the documents side by side with the images and it would allow the participants to more fluidly interact with the exhibits themselves," Hong said.
The company operates in California, Texas, Illinois, and New York and plans on expanding across the country.