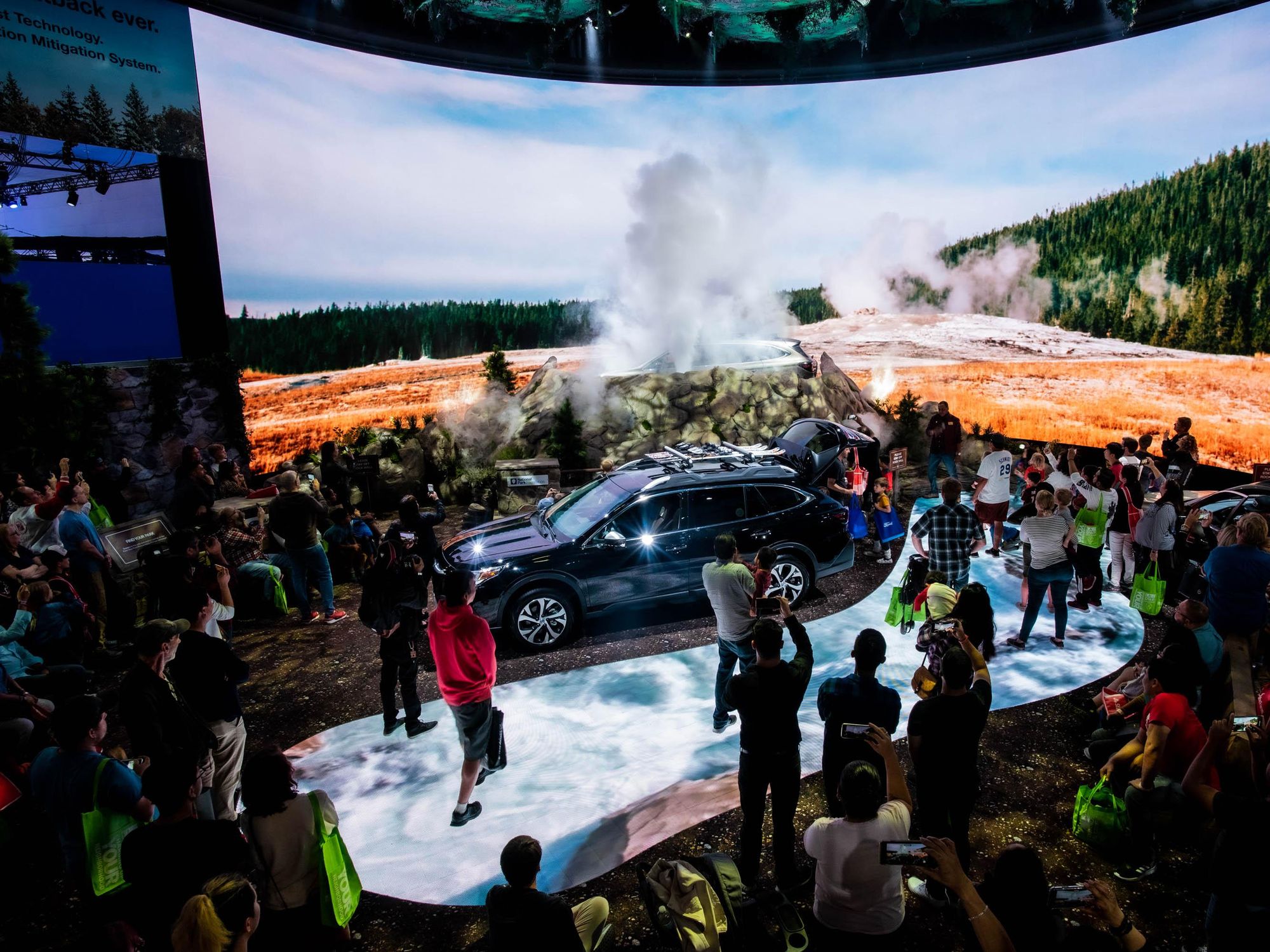 After two years away from the spotlight, the Los Angeles Auto Show is plotting a comeback — and a reinvention with the changing climate.
In the aftermath of pandemic restrictions that started 18 months ago, the upcoming Auto Show — one of Los Angeles' largest events and a major draw for international visitors —will focus not only more on electric vehicles, but on an education on rapidly changing automotive technology.
---
"This is the decade for the electric car," said Lisa Kaz, owner and CEO of the LA Auto Show. "We're seeing all these new brands enter the market. It's the perfect storm because California leads the market in electrification."
Automakers have in the past used the L.A. show to reveal new car concepts to the public, or to gauge reaction before they're even produced. But the 2021 L.A. Auto Show, scheduled for November 19-28, has more than just the usual automotive hype on its shoulders.
After New York Auto Show organizers canceled their event last month (a result of rising Covid cases), the L.A. Auto Show is now in line to become the first major U.S. auto show since the start of the pandemic. (The Chicago Auto Show held a scaled-down event over five days in July, but only about half the space typically allotted was used and fewer automakers participated.)
The show organizers and auto companies are rethinking the traditional stands and polished array of new vehicles. This year, there will be a 45,000 square-foot indoor track to drive EVs, which will join an expanded slate of outdoor offerings, including driving courses — led by Ford, Jeep and VW, among others — and street-level test drives of certain vehicles.
There's other departures from past shows. Many automakers are moving away from the big splashy media events of past years where they talked up their latest models. And they also are using more outside space to introduce consumers to the latest bells and whistles including smartphone and media integration systems, advanced driving assistance systems and other emerging technologies.
The L.A. Auto Show may well look overseas for inspiration amid pandemic-era restrictions and corporate belt-tightening. Despite that, the International Motor Show of Germany held earlier this month in Munich seemingly went off without a hitch, attracting international media and prominent manufacturers like Volkswagen, BMW, Mercedes-Benz and Renault. The widely spaced and masked-up event may serve as a template for such large-scale gatherings as vaccination mandates increase amid the discovery of new variants of the virus.
Still, automakers are keeping their plans for the L.A. show closely guarded for now. Some are still picking up the pieces from planned press conferences in New York, unwilling to commit to anything more than smaller, regional events.
Among the companies expected at the L.A. Auto Show is Manhattan Beach-based Fisker Inc., which plans to showcase its $38,000 Ocean electric SUV — a crucial product for the startup automaker as it tries to capture the mainstream EV market. In a conference call in August, company founder and CEO Henrik Fisker said there were contingency plans if the show were to be canceled again — including a smaller event at another time in November. But a November debut was critical to the car and company's success.
But, given the uncertainty around event planning, not every company is waiting for the biggest stage to unveil their newest vehicles.
Though Irvine-based Karma Automotive initially signed up to participate in the 2020, then 2021, L.A. Auto Show, it chose to unveil its latest product separate from a major auto show and through a virtual presentation for the media.
"We'd fully planned on attending in 2020 and then the pandemic hit," said Jeff Holland, public relations director for Karma. "That changed our planning. You have to stay on it week by week with these shows."
Holland said he saw signs traditional automotive shows are starting to fall back into place, but as the cost and logistics of shipping cars and setting up elaborate stages is weighing on some companies — especially during a global pandemic.
"It's not just the cost to exhibit, but the lighting and materials," Holland said. "And if we have a press conference, there's hosting and scriptwriting and other logistics."
What's Changed
As for consumers, though, Kaz said the L.A. Auto Show still serves as an important introduction to people shopping for a new car with the most up-to-date equipment. She said the show skews towards younger attendees and represents a way car shoppers can learn about advances in vehicles like electrification and advanced driver assistance systems.
"It seems like for most people when they feel like they experience a vehicle it changes perceptions," Kaz said. "We see technology changing so fast and it's been two years since the show has demonstrated it."
Kaz sees the L.A. Auto Show as an event that can lift up the city, even in times of transition. With only about three cancelations in its century-long history, the auto show celebrates this year 50 years at the Los Angeles Convention Center, when the center first opened in 1971.
But if the show doesn't go on, Kaz said she's learned to adapt to the times. More virtual events during the pandemic means a consistent rethink about how large auto shows can thrive when companies are more carefully spending money and the public is doing more shopping from home.
"We're in such unprecedented times now I think we're having to learn to adapt more," she said. "We're fortunate we're in November and not in August."