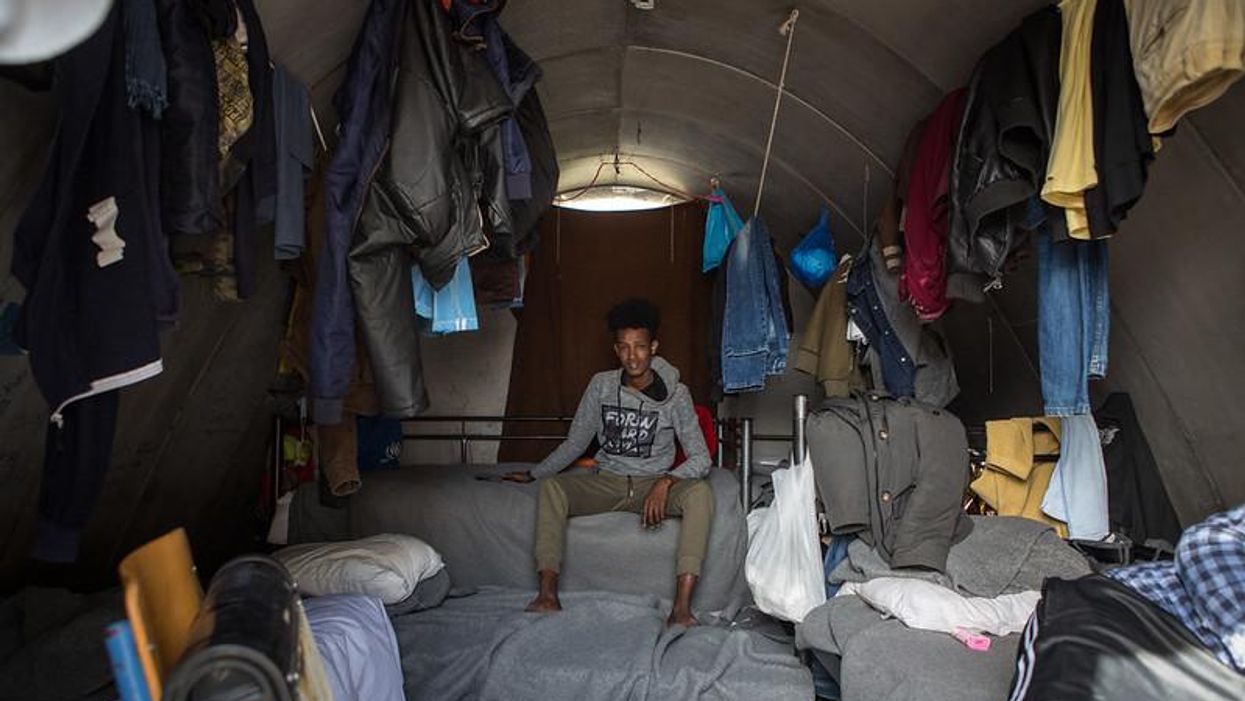 Burcin Becerik-Gerber was 22 years old when a catastrophic earthquake hit Turkey in 1999. Though she emerged from the 7.6 magnitude quake unharmed, the disaster killed over 17,000, including a number of Gerber's own friends.
That tragedy never left Gerber. As she went on to earn a master's degree in construction engineering and management at UC Berkeley and her doctorate in information systems at Harvard, she always knew she'd use her education as a vehicle to help those suffering through tragedies of their own.
---
As USC's Engineering Department Chair, Gerber has pioneered a course that allows students to learn about ongoing global crises and have the opportunity to create tangible applications to help aid people in need like the world refugee crisis.
The program is driven by the idea that there isn't one solution or one organization to tackle a given problem — more resources and new approaches are always required.
"I see my role as educating and inspiring the next generation," Gerber said. "I bring in my architectural background along with the engineering background to look into how technology enables spaces that could help support safety and security."
The nine-month long course involves not just students but also brings in advisors from the local and international community from Doctors Without Borders to SpaceX and the World Health Organization.
Students who want to participate must submit an application to be considered into the cohort. Since 2018, seven startups have emerged; all of them are still around today.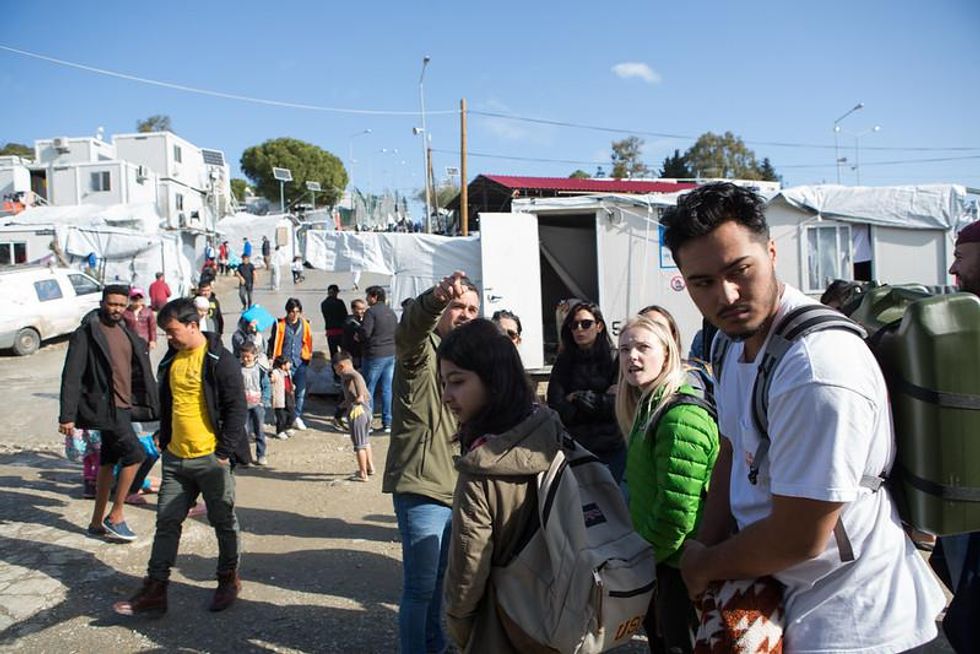 USC students gather to view the refugee camp in Lesbos, Greece.Photo by Elias Marcou
According to the UN Refugee Agency, there are 82.4 million refugees around the world.
While the course has focused on the global refugee crisis in the first two years and now they are shifting the focus to the pandemic, where another crisis has taken hold.
Among the technologies to emerge from her course is Frontida Records, a digital database that stores medical records for refugees. (Many refugees flee their country with barely anything, let alone health records.)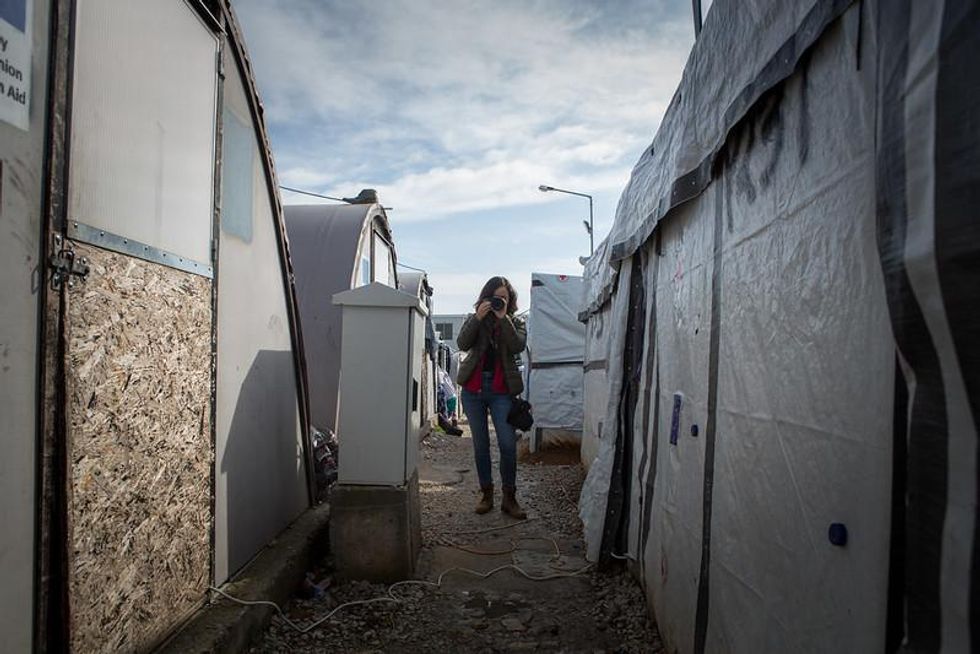 A USC student is captured on photo between the tight spaces of between each tent.Photo by Elias Marcou
The idea for the tech came from a class trip in 2018, when a group of students was sent to a refugee camp in Lesbos, Greece, for 10 days. They emerged with the idea for their database.
"Burcin is fantastic. She is caring and critical, pushing students to exceed their own expectations for themselves," said Laura Roed, a former student of Gerber's and a co-founder of Frontida. "My biggest takeaway from the course is that no matter who you are, if you put in the time, effort, and research you can truly make a difference in the world."
Roed said that Frontida has supported over 5,000 refugee patients as of May 2021. "We recently deployed with a medical organization in Panama that serves 25-plus local villages and are currently expanding in several Central American and Middle Eastern countries," she added.
And, given that 682,891 individuals have fled Afghanistan since January—a staggering 59% of them children under 18—it's not hard to imagine the company seeing an uptick in usage in the coming months.
Another company to come out of Gerber's class, Duet, serves as a micro-philanthropy platform to connect donors with refugees. To date, Duet has raised 140k donations, 175k total funding.
"This course proved that students can actually make a real, tangible difference in the world," said Rhys Richmond, Gerber's former student and Duet's co-founder and COO. "It gave us the opportunity to work across disciplines and create a sum bigger than the individual parts and taught us how important interdisciplinary work is to innovation."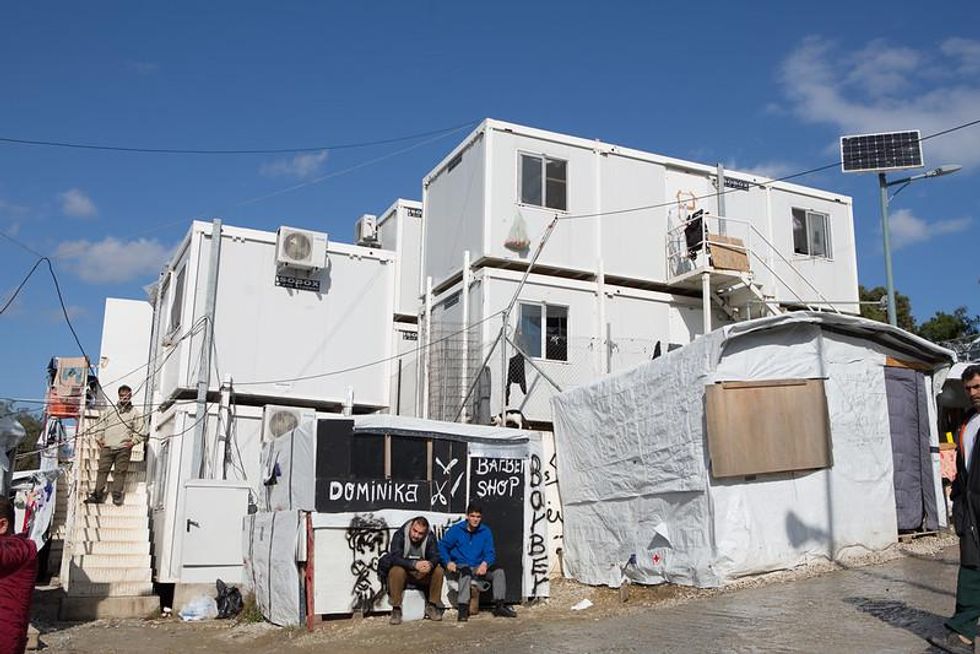 Two men sit in front go a makeshift barbershop in Greece, right beside a refugee tent.Photo by Elias Marcou
Gerber, for her part, is supervising research aimed at improving building design to become safer during fires or active shooter incidents. "I was interested in understanding how countermeasures implemented in buildings affected behavior," she said. "So we created these virtual environments at school and an office."
The lion's share of that work is being carried out by students, too. "It's important that students see how they can also be part of this change," Gerber said.