Three Things to Know About the LA-Based COVID Testing Company LA's Sheriff Refuses to Use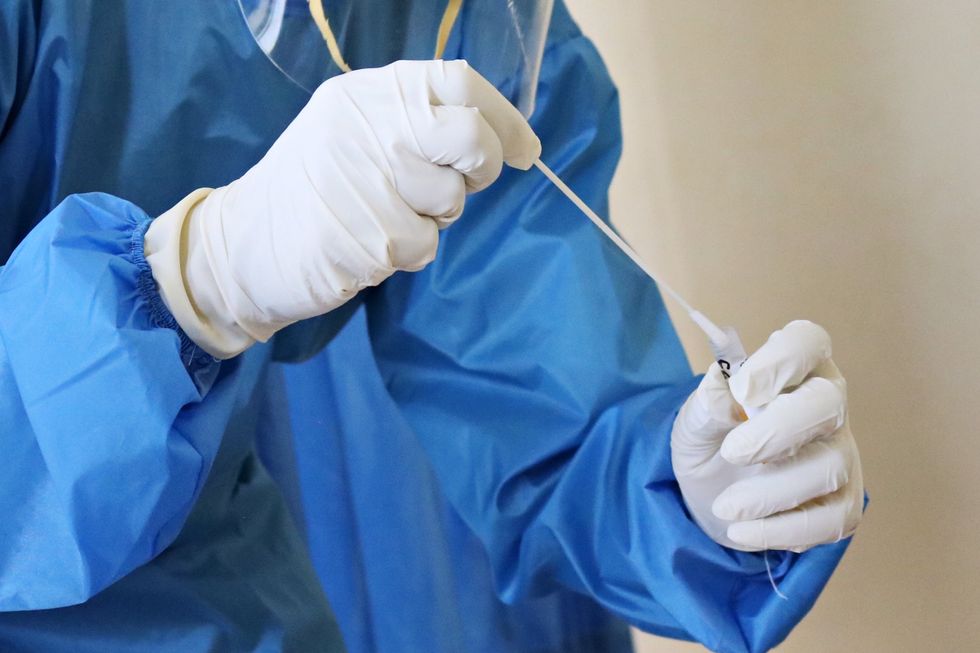 This week, Los Angeles County Sheriff Alex Villanueva announced he would not use L.A.-based Fulgent Genetics to test his employees, saying he fears the information would be shared with the Chinese government. Fulgent is California's largest commercial lab, processing tens of thousands of COVID-19 tests a week to test county employees.
---
In a letter to the board this week, Villanueva said an FBI weapons of mass destruction coordinator contacted him and other county officials last week over "very concerning information" regarding Fulgent.

He went on to say that he learned Fulgent Genetics has "close ties" with BGI, a genomics company in Beijing, telecom giant Huawei, and pharma company WuXi. Neither Fulgent nor the sheriff's department clarified what these ties are. Fulgent's CEO Ming Hsieh was born in China, but is a U.S. citizen.
The FBI would not comment on whether or not a meeting happened, but clarified the FBI has a weapons of mass destruction squad, not coordinator.
The Los Angeles County Board of Supervisors, which has sparred with Villanueva in the past, said in a statement that Fulgent Genetics' contract with the county prevents it from disclosing any data without the county's permission. Sheriff Deputy Trina Schrader said the Department wants to use a different testing provider, but is waiting on the L.A. County Board of Supervisors for approval.
The accusations around Fulgent Genetics and its alleged ties to China have long circulated on social media platforms, including Culver City-based MeWe, which is home to a good deal of anti-vax sentiment. Federal officials have also been worried that Chinese firms are collecting biometric data around the globe. U.S. intelligence officials released a paper last month warning that China's data collection strategies might help them develop sophisticated technologies that could undermine U.S. dominance in key industries like artificial intelligence, quantum computing, and the bioeconomy.
Fulgent Genetics said in a statement that it does not sequence or collect any DNA as part of its COVID-19 tests, and samples are destroyed 48 hours after testing.
"False and defamatory statements have been made about Fulgent Genetics, its testing, use of data, corporate structure and sharing data with China. We will be requesting a correction/retraction immediately and intend to aggressively fight these lies on a number of fronts," the company said in a statement.
Here are five things to know about Fulgent Genetics, an L.A. County-based company tasked with testing county employees.
Fulgent Genetics is a genetics testing company that has been around since 2011.
Ming Hsieh, founder and CEO of Fulgent Genetics, came to California from China to study electrical engineering at USC, where he got both his bachelor's and master's of science. He had previously founded the Pasadena-based Cogent Systems, a fingerprint scanning system that landed the company large contracts with Homeland Security and the FBI.
He founded Fulgent Genetics in 2011 and the company launched publicly in 2013 with a focus on genetic testing for pediatric rare diseases. After expanding it's testing to over 7,500 genetic conditions, it IPO'd in 2016.
In 2016, USC named its electrical engineering department after Hsieh.
The company is based in Temple City, 14 miles east of L.A., Fulgent Genetics is a genetics testing company. In addition to providing COVID-19 tests, it also screens for hereditary cancer risks and carrier risk for conditions such as cystic fibrosis, Duchenne Muscular Dystrophy and spinal muscular atrophy.
Its slew of genetic testing panels can isolate variables in dental health, immunity, lung health, eye health and metabolic health. The company also provides exome sequencing (a form of genomic sequencing) that uses genes, family history and a patient's clinical history to help find the underlying cause of a disease.
Do you have information about Fulgent Genetics? Contact Keerthi securely through her encrypted Signal contact at 1-408-470-0776 or write her through an encrypted email address.
It's one of California's largest COVID-19 testing facilities.
Between the period of Nov. 14 to Nov. 20, Fulgent Genetics tested 108,638 COVID-19 samples from California residents, easily making it California's largest tester (followed by Quest at 63,611 samples and FLOW Health at 60,916 samples). The company turned around 95% of its tests in one day.
The company is contracted with federal agencies like the Center for Disease Control and the Department of Homeland Security to perform COVID-19 testing. It also has partnerships with six counties in California including Orange, Santa Clara and San Bernardino, and four states including Utah and Colorado.
Fulgent Genetics, which has labs in California and Texas, is accredited by the California, Pennsylvania, New York and Rhode Island departments of public health, the College of American Pathologists, Maryland Medical Laboratory License and the Clinical Laboratory Improvement Amendments License.
It's not allowed to share data per its agreement with the county.
Per Fulgent Genetics' contract with L.A. County, it's not allowed to disclose any data collected without the county's permission. Fulgent is also required by law to store all county data in the United States.
In a statement, the L.A. County Board of Supervisors said it will assess any credible threats to its contracts with county partners.
"If a credible threat is confirmed, or if the federal government takes any steps to rescind its certification, we will take immediate action to ensure no employee data is misused," the board said.