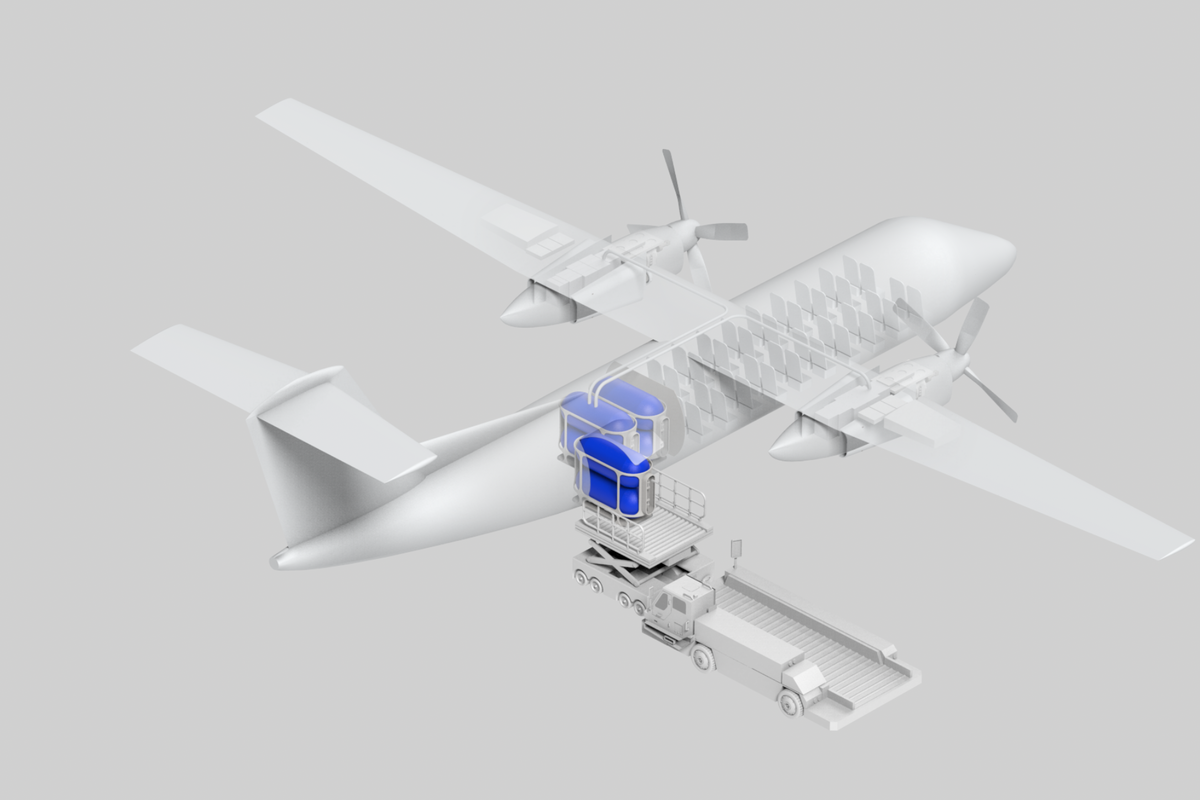 Facing a future filled with human-caused climate catastrophes, Universal Hydrogen has set its sights on the sky.
Frustrated that the aviation industry was not moving fast enough to cut down on emissions, former Airbus Chief Technology Officer Paul Eremenko teamed up last year with former Georgia Tech engineering professor John Paul Clarke and Jon Gordon, a mergers-and-acquisitions lawyer, to launch Universal Hydrogen.
---
The Hawthorne-based company produces a kit that eliminates carbon emissions from regional aircrafts. It's one of several startups working to reduce commercial travel's emissions. But it has even larger ambitions, seeking to develop a hydrogen fuel distribution network that it hopes will be used in airports around the world.
Universal Hydrogen said it is on track for their first flight test using their hydrogen fuel cell powertrain on a 40-person passenger regional airliner in 2022 at Moses Lake, Washington.
"We want to be in the business of supplying hydrogen to the user, in this case the airlines," said Chief Commercial Officer Rod Williams. "We'll be able to take an aircraft and convert it from the configuration today which uses a turboprop engine powered by Jet A-1 fossil fuel to a configuration which uses a hydrogen fuel cell powertrain and produces no carbon dioxide."
Universal Hydrogen hopes to sell hydrogen fuel capsules and module technology to serve as both the fuel tank within the aircraft and the method of transporting hydrogen from where it's produced to the aircraft. Their hydrogen fuel capsules offer 2X weight savings over conventional tech. "That's important because there's no infrastructure that exists today to transport hydrogen," Williams said.
Hydrogen is generally regarded as a cleaner fuel, since it produces only water when consumed by a fuel cell. There are a variety of ways that hydrogen can be produced, such as natural gas, nuclear power, biomass and renewable power like solar and wind.
There's a lot of money being invested in hydrogen, including a $52 million fund announced by the Energy Department in July. But not everyone is convinced of hydrogen's benefits; some research suggests it's still too energy-intensive to produce.
That's because much of the hydrogen now produced comes from natural gas facilities, but converting that production to wind and solar could open the gates to a greener aviation industry.
Mark Jacobson, the director of the Atmosphere and Energy program at Stanford University, and one of the authors of a study published in that found that so called "blue hydrogen," a product the natural gas industry has been promoting, produces a larger greenhouse gas footprint than burning natural gas or coal for heat.
To really make hydrogen green, he said the industry will need to convert to wind and solar.
"If the hydrogen is green hydrogen and it's used in a fuel cell in an aircraft, that's actually the best option for long distance [commercial air travel]," Jacobson said.
For smaller and short haul flights, he said electric planes are promising.
Universal Hydrogen announced last week that they secured $62 million to accelerate the first test flight of a hydrogen-powered aircraft that's expected to take off in 2022.
Investors in the round include Mitsubishi HC Capital, Tencent, Stratos, GE Aviation, Waltzing Matilda Aviation, Fourth Realm, Hawktail, Marc Benioff's TIME Ventures, Jeff Wilke and Spencer Rascoff's 75 and Sunny Ventures. (Full disclosure: Rascoff is the founder and executive chairman of dot.LA.)
The circumstances couldn't be more urgent. Air traffic dumped 915 million tons of greenhouse gas-causing carbon dioxide into the atmosphere in 2019. In 2020, the U.S. Energy Information Administration estimated approximately 612,000 barrels of pollution-belching jet fuel was consumed each day by U.S. commercial passenger flights. And, given the uncertainty surrounding climate change legislation on Capitol Hill, it's unlikely the aviation industry will face much pressure to change how it operates. That's where Universal Hydrogen comes in.
Clean-burning hydrogen has long been an attractive alternative to petroleum in cars. Yet, due to the cost of implementation, it has yet to really catch on in that sector (though there are a few promising instances of adoption: hydrogen fuel cells have been used in cars built by Hyundai and Toyota). Adoption has been slow in aviation as well.
But that may be changing. Airlines and operators including Icelandair, Air Nostrum, Ravn Alaska, and ASL Aviation Holdings (cargo aircraft) have committed to purchasing Universal Hydrogen's conversion kits.
Though the company did not disclose the price of their kits, they expect the cost of their hydrogen will be far less than the jet fuel used today.
"Our goal is to not increase the cost of travel and we expect that by the time we get to 2025, we'll be able to achieve the same cost that an airline has today," Williams said.
How A UH2 Airplane Works www.youtube.com