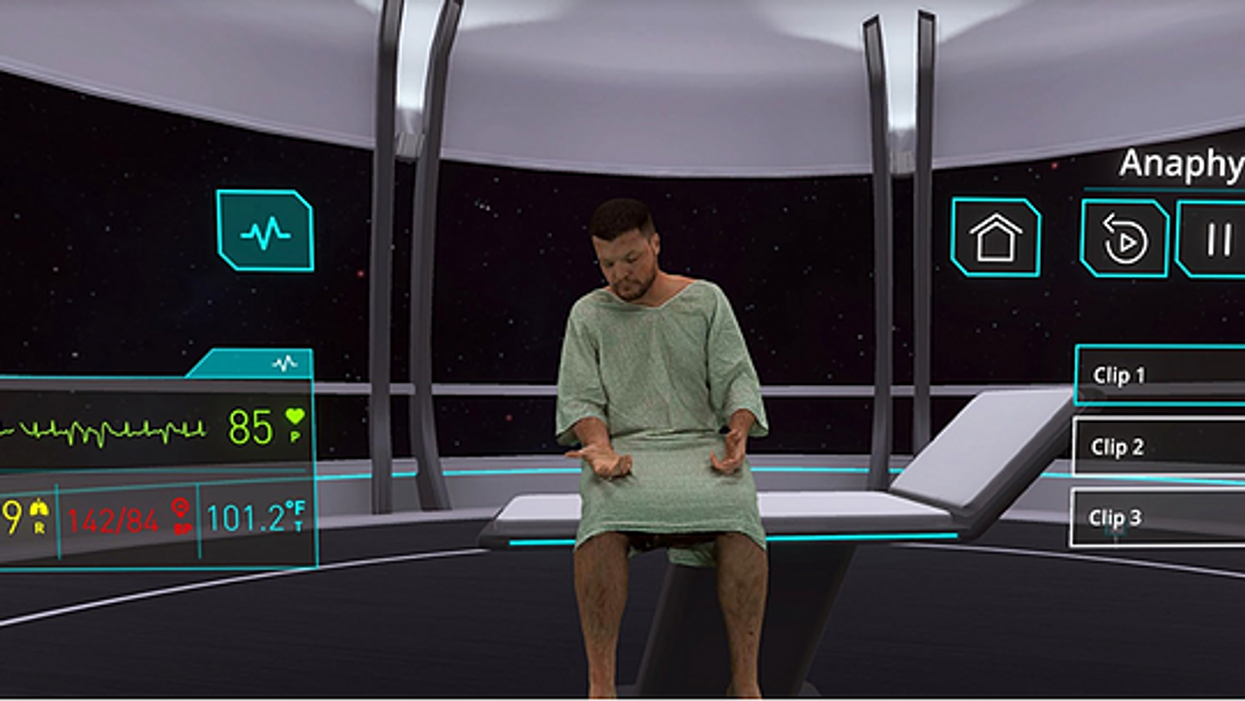 Venice-based VR company GIGXR is partnering with the Air Force Academy to simulate wartime applications.
Nursing students at the University of Pennsylvania who couldn't make it into the classroom during the pandemic have been examining virtual patients — replete with lesions, temperature and other symptoms — via an app on their phone.
---
The technology produced by Venice-based GIGXR was so intriguing that the two-year old company recently caught the interest of the Air Force Academy based in Colorado, which was the recipient of a $750,000 grant to develop a mixed-reality program called HoloChem.
The program will use mixed reality, in which augmented reality components interact with the real world environment, to immerse students in what would otherwise be impossible situations, allowing them to see, for instance, how different gasses react to atmospheric conditions on the moon. The aim is to provide critical chemistry principles.
"We're providing a universe where an Air Force Academy instructor can teach a cohort of students either on campus or remotely dispersed and move them through a series of experiments so that they can get the knowledge they need, the experience they need, and with absolutely no risk," said GIGXR CEO David King Lassman.
Augmented and virtual reality technology have long been heralded as the future of education, but never stuck, either due to lack of school funds or lack of efficacy. Google Glass, once heralded as a moonshot edtech product, was never widely adopted.
"You can throw money at something and throw the tech out there," said Mina Johnson, a psychology professor at Arizona State University who has been making mixed reality content in educational environments for 20 years. "But if you don't have good use cases worked out, then it's not going to get uptake."
But studies have shown that AR and VR applications in the classroom could prove to be more than just another edtech fad, especially for concepts like physics and chemistry. A study co-authored by Johnson found that students who could physically interact with physics concepts through AR found the lesson to be more engaging.
"It's easier to learn 3D content with a 3D medium," Johnson said. "So if you want to learn about electromagnetic waves which move around you in a 3D manner, then I think you can use those mediums."
GIGXR, whose growth was accelerated in the midst of the pandemic when students could no longer come to class, is one of a growing subset of AR, VR and mixed reality tech companies harnessing a socially distant learning environment to make education more immersive.
The company partnered with around 40 institutions around the world, including a slew of medical education networks including the University of Pennsylvania School of Nursing. The school relies on HoloPatient, another one of the company's applications that uses virtual patients to represent 16 different diseases or injuries. The technology mimics real-world situations in which students have to react on the fly to situations with life-or-death consequences.
"That lends itself to a connected and immersive experience, which in turn lends itself very well to anything that requires training and learning dynamic where you're having to learn things that are complex…that you can't see readily with the human eye," Lassman said.
GIGXR's technology uses a blend of mixed-reality and gameplay techniques. Through Microsoft's Hololens, a pair of mixed-reality smart glasses, or through the GIGXR app on a smartphone, students can superimpose a 3D patient into their environment and walk around them to check for injuries or marks, while a dashboard of the patient's biometric information is shown nearby.
Guided by the instructor, students can treat the patient virtually, and the instructor can control the biometric information based on their treatments, either slowing down the heart rate or raising the blood pressure.
Lassman called it "really useful when you think about the health care space. I'm looking at incredibly complicated models, the human body, how the cardiovascular system works, how the heart beats."