Weekly Tech Recap: Niche Streaming Services Are Nibbling Netflix's Lunch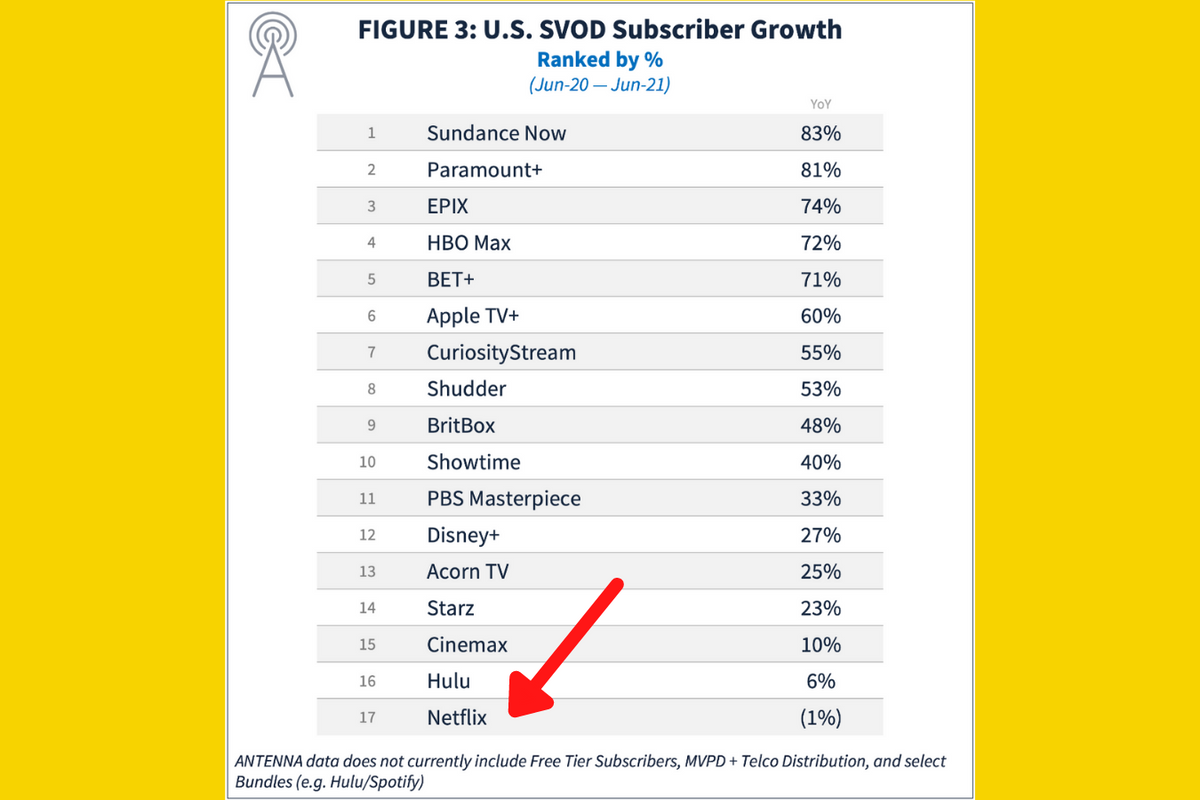 Smaller, niche competitors to Netflix are slowly gobbling up its marketshare, according to new data. In the last two years, Netflix and Hulu's combined share of streaming video subscriptions in the U.S. has dropped from nearly 75% to below 50%.
Subscribers for the 10 so-called "specialty" subscription streamers that Antenna tracks — including Cinemax, BET Plus and Sundance Now — have collectively grown 74% over the last two years.
And while their growth rates are larger, these niche streamers only have a small fraction of the market. Dive into the numbers.
LA Startups To Watch 👀
🚙 Fisker Inc. is set to debut its electric SUV at the Los Angeles Auto Show in November. The Manhattan Beach-based electric vehicle startup also told investors on Thursday that it is accelerating development of its small car.

✈️ This week, Elude launched its travel app — built with a set of AI and Tinder-like features meant to create a personalized travel booking experience for price-conscious millennials and Gen Z. On Thursday, the Los Angeles-based startup raised $2.1 million in a round of seed funding led by Mucker Capital and Unicorn Ventures.
🌙 Kenshō Health, a Los Angeles-based startup that offers a searchable referral service to help patients find holistic medicine healthcare providers, will soon make a move into telehealth. The company announced Thursday that it raised $3.5 million in a seed funding round that was led by KB Partners and included Company Ventures and Gaingels.
🪙 Cent, owner of NFT marketplace Valuables, raised $3 million from celebrity investors to help creators make money by minting non-fungible tokens from tweets.
#TechLA's Movers & Shakers This Week 📢
🎞 Reese Witherspoon is selling her production company Hello Sunshine — which makes shows for Apple, Hulu, HBO and Amazon — to former Disney executives Kevin Mayer and Tom Staggs' media startup.
🏡 Last week, Rialto-based Plant Prefab opened its second factory, in Ontario, and on Tuesday announced that it raised an additional $30 million for a third highly automated factory. The company says it is poised to take on the growing green home market.
LA Tech and Venture Capital News 🗞
📚 Edtech powerhouse GoGuardian nabbed a $200 million strategic investment from Tiger Global Management, making the Los Angeles company an instant unicorn on Thursday. GoGuardian's software lets teachers monitor students' activity online during school hours, technology that's attracted criticism from privacy rights advocates.
⬆️ Adtech startup Ryff is moving into the creator economy with a new service called Spheera. This week it raised $11.7 million in a Series A funding led by Audent Global Asset Management.
💡 The Alliance for SoCal Innovation and Silicon Valley Bank (SVB) are teaming up to create the SoCal Venture Pipeline, a fund that backs brands and companies in lesser-known parts of Southern California where entrepreneurs have fewer connections to venture capitalists.
Listen Up 🎙
Need a podcast recommendation this weekend? Here are some new pods we have for you:
🔈 Lindsay McCormick, founder and CEO of Bite Toothpaste Bits, says she came up with the idea for her company while working as a producer at HGTV's "HouseHunters" show. In this episode of Behind Her Empire, McCormick offers advice for up-and-coming entrepreneurs. Listen on Stitcher, Apple Podcasts, Spotify, iHeart Radio or wherever you get your podcasts.
🔈 Carey Ransom, founder and president of Orange County-based venture studio Operate, tells the LA Venture podcast that the entrepreneurs of tomorrow are those who demonstrate grit and determination to improve their lives. Listen on Apple Podcasts, Stitcher, Spotify or wherever you get your podcasts.
🚨 ​EXTRA EXTRA 🚨
💉 Los Angeles city officials are considering a rule requiring residents to show proof of #vaccination before entering restaurants, bars or grocery stores. Here's how you can show proof that you got vaccinated.
🎥 Streaming platforms are helping film productions in Los Angeles return to pre-pandemic levels. From April through June, production in L.A. ramped up to a total of 9,791 shoot days, the highest number since late 2019, just before the coronavirus pandemic froze the motion picture industry.
📱 Mobile is an emerging battlefront for streaming platforms. And NBC's Peacock TV mobile app is getting a boost thanks to the Tokyo 2020 Olympics. From June to July, the app saw average daily users in the U.S. climb 52%, to about 2.4 million.

🗞 Activision Blizzard continued to make news this week starting on Monday with workers penning a letter to CEO Bobby Kotick, calling on the company to create a safe work environment. The next day, Blizzard President J. Allen Brack stepped down from the company "to pursue new opportunities."
📊 But despite the strife and protest from employees and shareholders, the company announced second-quarter revenues of $1.92 billion, well above Wall Street expectations.
💬 Male players often level bigoted criticism at female gamers or argue they're not comfortable playing with women. And within the gaming workforce, women have contended with blatant sexual harassment. Cloud9 White describes what it's like to be a woman in the world of esports.
LA Tech and Venture Capital Events 💬
Check out these upcoming Southern California events in the tech and startup scene in August:

Is your organization having an event? Let us feature it in our newsletter! Email luis@dot.la.
Am I doing this right? 🤔
Throw me feedback, compliments or questions on this newsletter at luis@dot.la or on Twitter at @rungomez.