Xos Launches a Mobile Charging Station For Electric Truck Fleets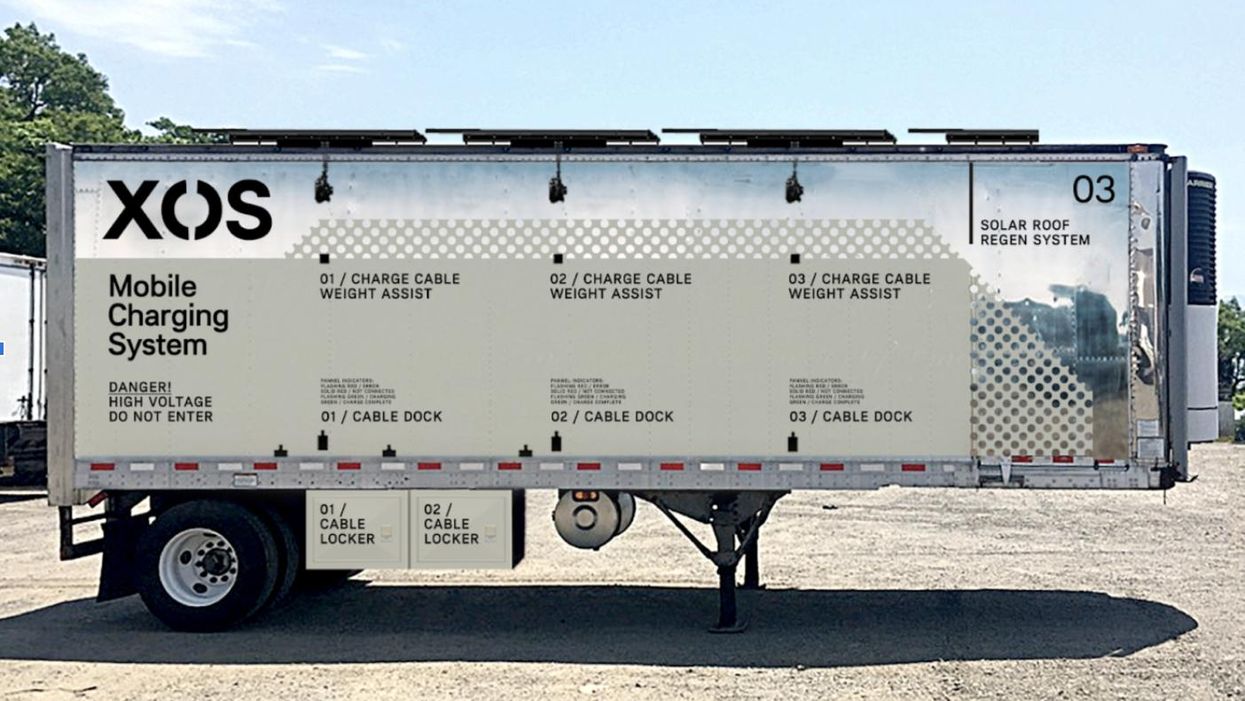 As the nation waits for electric vehicle charging stations to be as accessible as gas stations, North Hollywood-based Xos Inc. thinks it can get big rig operators charged up quickly.

The company introduced one of the first portable charging stations for fleet operators on Thursday. The station, which looks like a large metal truck trailer, can charge up to five vehicles at a time in a parking lot or fleet yard that doesn't yet have permanent charging facilities.
---
Big rigs are among the state's largest polluters. Last year, the state enacted a zero-emissions truck and delivery van mandate beginning in 2024, with the goal that all heavy duty trucks sold in California are electric by 2045.
Known as Xos Hub, the stations allow for a movable charging infrastructure in parking lots being used temporarily or without existing vehicle chargers. The company hopes that the mobile stations can be distributed widely and persuade more fleets to adopt battery electric technology. The units may also offset operators' concerns that electric commercial vehicles have a short range and few charging options.
"Everything from individual state regulations, to commitments by large fleet operators to convert to zero-emission electric vehicles, to President Biden's infrastructure plan, is pointing to electric vehicles as our future," CEO and co-founder Dakota Semler said in the announcement. He said fleet customers shouldn't have to wait for traditional fixed charging stations.
The Hub is part of a new subsidiary, Xos Energy Solutions, which will also offer Xos Serve, which will perform site evaluations, installations and other services related to the infrastructure.
Some infrastructure investments are starting to appear around ports. In May, Electrify America and the ports of Los Angeles and Long Beach announced a $25 million investment for commercial vehicle chargers. Electrify America is a subsidiary of Volkswagen Group of America.
The push for zero-emission fleets at the ports of Los Angeles and Long Beach is even more pressing after Los Angeles Mayor Eric Garcetti and Long Beach Mayor Robert Garcia called for the elimination of diesel trucks at the port by 2035. The two ports are the nation's busiest seaport hub where thousands of diesel trucks haul billions of dollars worth of cargo but there is still little electric vehicle infrastructure.
There are more than 100 zero-emissions vehicles being tested with various partners, such as Toyota, using battery electric or hydrogen power at the port, said Phillip Sanfield, a spokesperson for the Los Angeles port. But more infrastructure will be needed down the line.
"Right now, our focus is to help identify a variety of different options the market may determine for zero-emissions vehicles," he said.
A focus on charging comes as Xos is putting more of its commercial vehicles on the road.
The company said earlier this week it will provide FedEx with 120 electric vehicles for use as FedEx Ground delivery trucks. These vehicles will be operated by the parcel delivery company's Independent Service Provider arm in California, Massachusetts, New Jersey, New York and Texas beginning at the end of this year. Xos says more trucks will be put into service into 2022, with ongoing discussions with FedEx on additional vehicle deliveries in other states next year and in 2023.
In March, FedEx announced a $2 billion initiative to go carbon-neutral by 2040, including purchasing only electric parcel pickup and delivery vehicles from 2030 on.
Xos is preparing an SPAC merger with Florida-based NextGen Acquisition Corp. and a $2 billion valuation. A shareholder meeting is scheduled for Aug. 18.